Thorogood 6-inch Moc Toe Boots 1000-Mile Thrash Test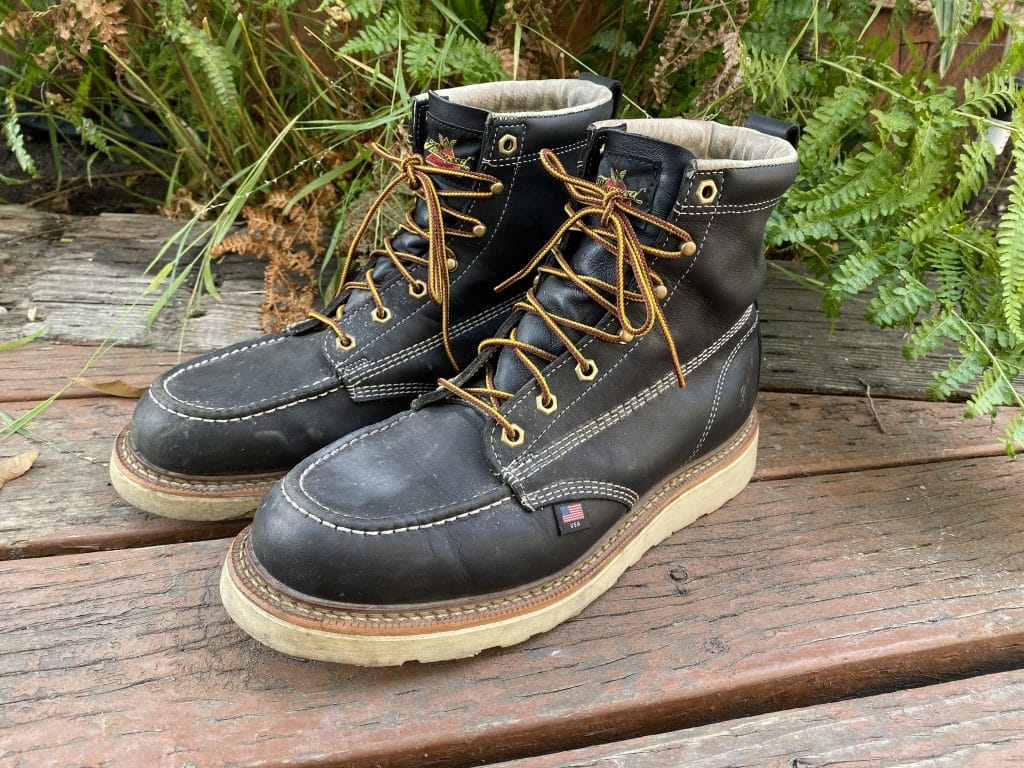 As we all know moc toe (moccasin-toed) boots with wedge soles are popular with guys and gals that ride V-Twins. There are a ton of manufacturers making this style of boots, but we are all about the USA-made models. That pretty much leaves Red Wing, Thorogood, and a couple others in the mix.
I have known of the Thorogood line of boots for quite some time, but have never had a pair. When I started my journey of knowledge about the brand, I was immediately intrigued with how they came to be. So I found some answers. The Thorogood line of workboots hit the scene in 1918. The thought behind the brand was pretty damn radical at the time. Every job needed its own specialized footwear to match its demands, so they produced different kinds of specialty  footwear for miners, oil-workers, railroad workers and even the American troops in World War I. And get this; Thorogood was responsible for creating the first safety-toed workboot in 1943. In 1964 The Hike 'n Camp was introduced. It was a wedge-soled 6-inch moc-toe boot (bearing a plethora of similarities to the 6-inch boots I am actually testing) that became the official boot of the Boy Scouts. How cool is that?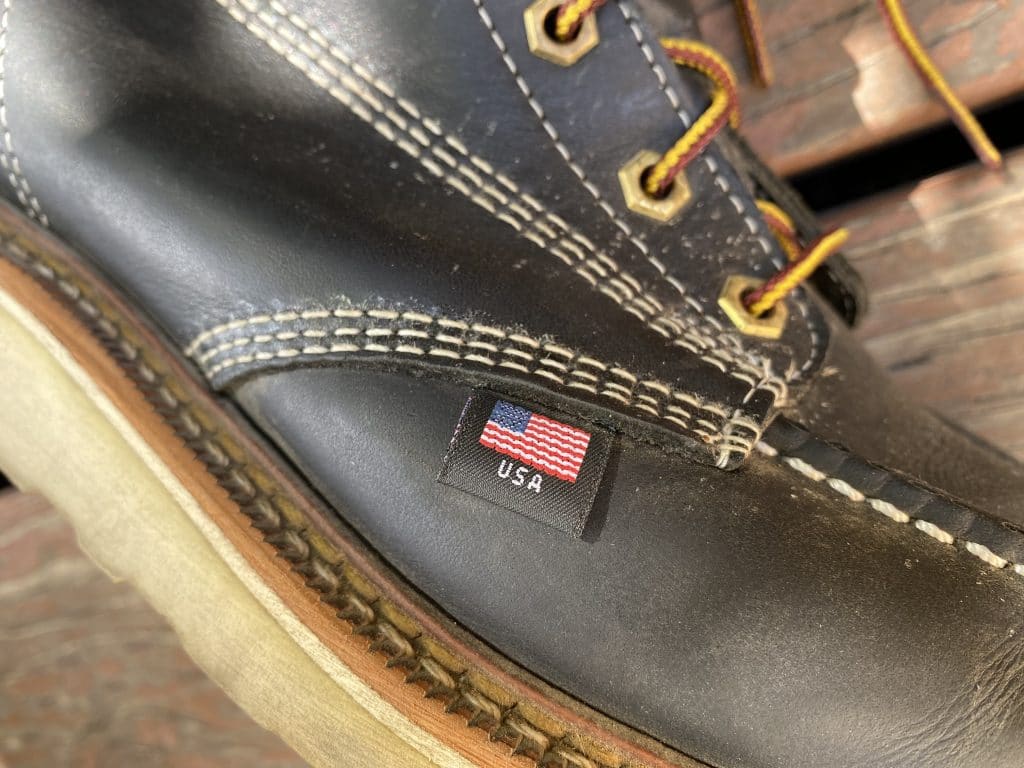 With a ton of Thorogood's brand history in mind, we snatched up these black beauties online for $190 and once they arrived I laced them up and gave them a go on the bike. It only took a couple of days to break them in both on and off the motorcycle. My right foot is slightly bigger than the left, so getting a boot to feel good on that foot in a matter of days is quite the challenge. The Thorogood was up for the job and fit my one fat foot nicely in less than a week. My full range of motion while shifting and braking motorcycles with both forward and mid controls was achieved in the first full 100-mile bike ride. Then it was all gravy from there. 
The stiffness of the boot was not overkill, but they are firm; just like a boot should be. When on skinny pegs or kick-starting my Shovelhead the fiberglass shank felt really sturdy. When off or on the bike the MAXWear Wedge slip-resistant outsole and Goodyear storm welt construction kept the boot planted on both the ground and the bike. I had zero problems with the wedge sole slipping or loosing traction on any surface. Not even gravel.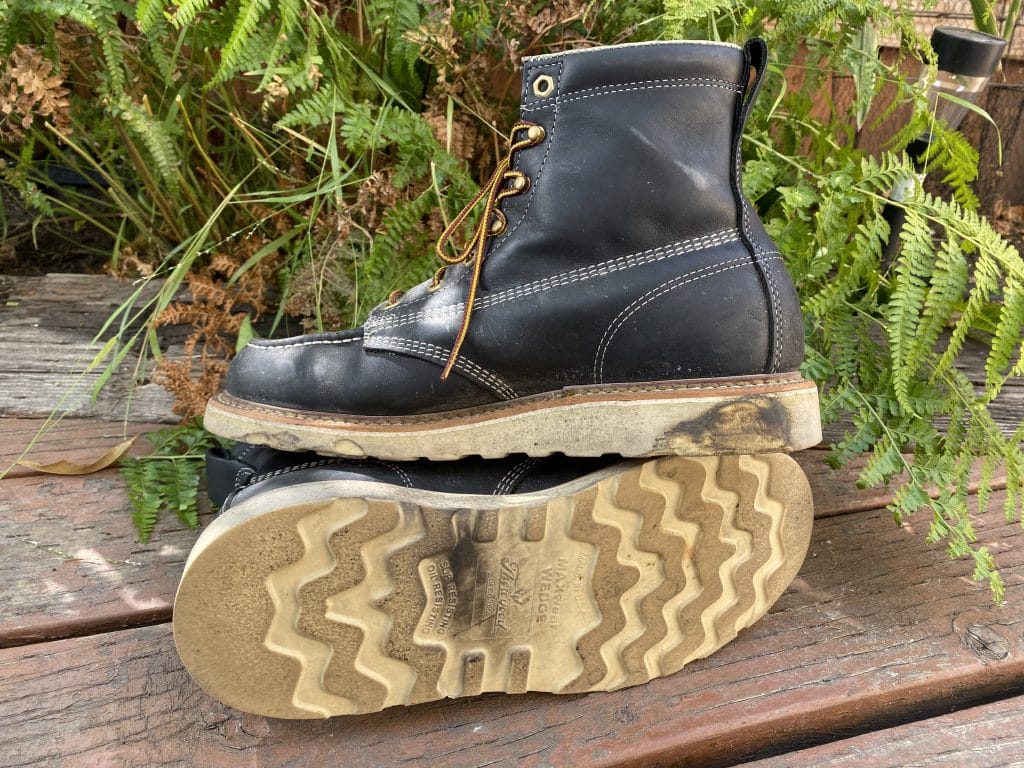 Let's talk about the comfort of these boots since broken in, with one being horrible and ten being "slipper-like" comfort. I would give the Thorogood 6-inch moc-toe boot a solid nine for with walking and riding. In large part that is due to the removable "Ultimate Shock Absorption" footbed Poron comfort cushion insole. This insole comes with the price of the boots and is one of the most high-quality insoles I have used at any price. I even kept these boots on until bedtime many times. And that says a lot for their all-day comfort.
The overall wear of these boots have been exceptional. The leather outer has been tough as nails and cleans up really well without having to go see the shoe shine man every week. Yes, the Indian FTR melted the front of my right boot sole and my Softail's HPI pipe/So Cal mid combos has melted the hell out of the heel, but all in all these boots have been faring really well. To keep them looking good I just wipe them off with a damp rag and spray the inside with Febreeze when they get a little funky.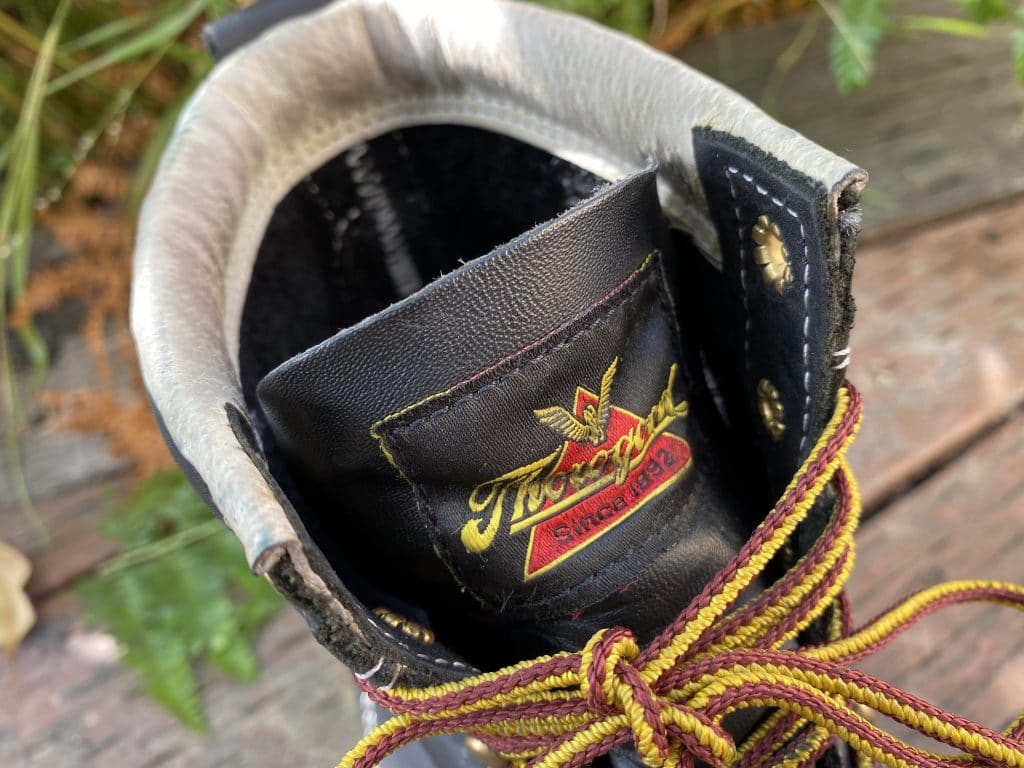 If you didn't know this already these boots are proudly made in the USA by union workers. And that is something we here at VTV can get behind 100-percent. The boots come in a myriad of colors such as Tobacco Oil-Tanned, Trail Crazyhorse, and Black Walnut, but I am partial to the "go with anything" simpleness of the black full-grain leather.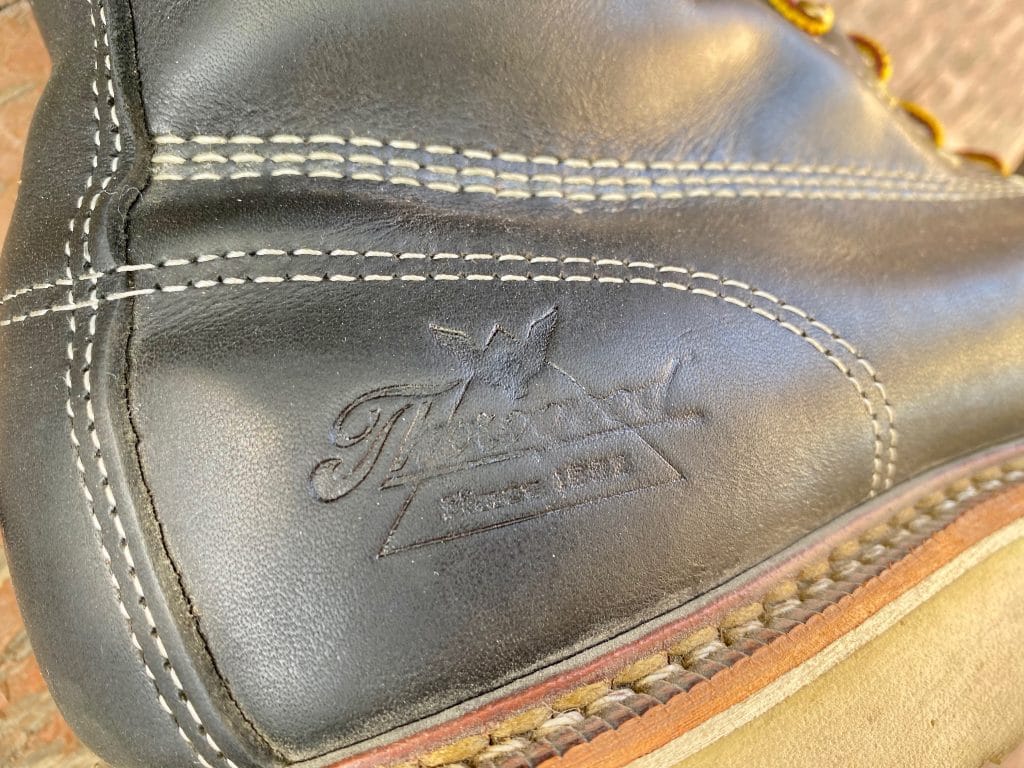 After walking and riding in these boots for 1000 miles (now well over three months and 3000-plus miles) I can say that these Thorogood boots work well, look great, and most importantly, are comfortable. With the aforementioned facts combined with the other 100-plus boots I have tested in my editorial career, I am saying that with all honesty these are the current kings of the 6-inch moc-toe boot realm. The are completely worth the money and I like that I am supporting American jobs when buying them.
For more info on this fine footwear and the history of the Thorogood brand check them out at: www.thorogoodusa.com