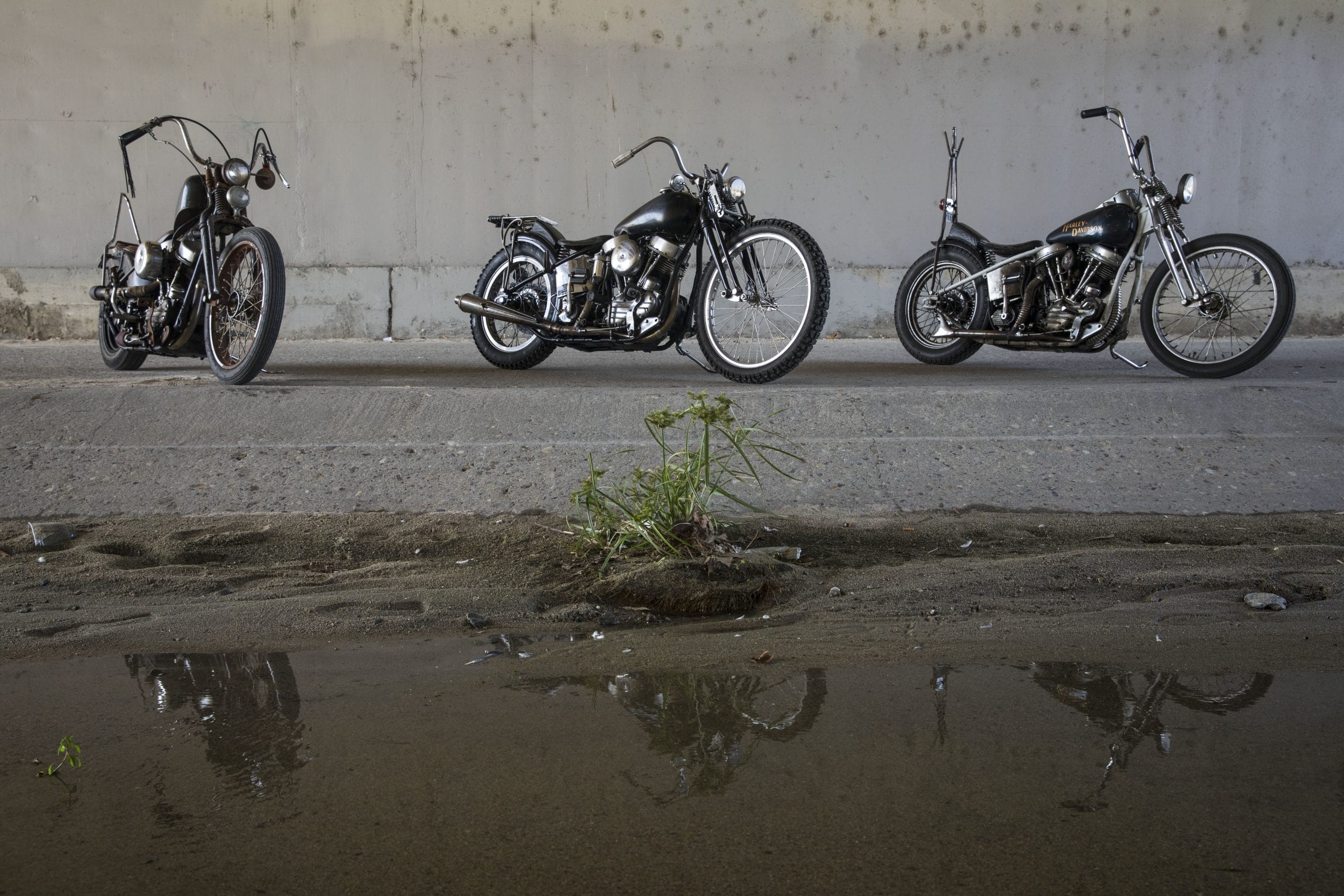 BY: RYAN LOUGHRIDGE
Tony Nguyen of LandSpeed Motorcycle shop had the idea of getting a few of the other 1954 Panheads he knew of together for a shoot. That idea seemed to fade into a pipe dream until that dream became more of an awakening once Tony was selling his '54. Slated to have the bike shipped off, Tony rallied Mike Caviston and Steve Motta, the two other owners of the 50th Anniversary pans. Luckily everyone's busy schedules were able to fit the scheduling of the last-minute shoot. We met at LandSpeed in Fountain Valley, CA. Steve rode down from Burbank and Mike came up from Corona Del Mar.
Once all three bikes were together, the comparisons and contrasts became obvious. It was amazing to see what 63 years, a number of different owners and then the visions of the current owners will do to a vintage motorcycle. Although the year of the drivetrain is the same across all three bikes, the attitude of each machine was as unique as the identity of its owner.
Mike Caviston's '54 was built by Michael Barragan of Evil Spirit Engineering in Los Angeles. Adorned by many period correct and original parts, the patina heavy FLH looks like a survivor from the early 60's. When asked about how his quest for this bike came about, Caviston explained: "A 50's Panhead, yeah man, that's what I was looking for. But how, how could I make that happen? The parts, the fab, the motor, etc. where do I start? How does it all come together? A Nightmare at best, I didn't want some half-ass bullshit bike. I questioned all of that until I met Michael Barrigan from Evil Spirit Engineering. We spoke about the concept for hours on the phone, then we talked about it at his shop, he listened to what I was looking for, something rusted and mean; yet OEM on everything, down to the spec. Once we locked that in, I gave him the opportunity for the real artist to shine. This is what he designed, and I can't imagine anything better." 
Steve Motta's bike on the other hand is a direct extension of his personal style. With the 19" rear wheel paired with the 23" front, the stance is similar to that of a board tracker with some early chopper styling for good measure. Much of the fabrication and metal work was done himself, adding to the unrepeatable look of the bike.  "I saw this pan on Craigslist for quite a bit more than I would pay. I talked to the guy a bit but didn't make a move because he was still a bit high on the price. The ad expired, fast-forward about 4 months I hit him up and we talked price again. I drove down to San Diego, talked a bit more, negotiated and the rest is history. He gave me boxes upon boxes of stuff, which I didn't foresee being part of the sale and ended up making this a super score. I didn't touch the bike for some months until my slate was clean. I was going to build it more like a traditional bobber, bobbed hinged fender/pogo seat, tank shift, etc. Ultimately, I ended up going this route since the frame was a little more chopper-ized than I liked for the initial plan. Being my daily rider, I've done changes to it as I found a few more choice parts here and there." 
I remember the day Tony scored his 54 Pan; he sent me a picture of it in the back of his sprinter, having paid a ludicrously small amount of money for it. Relatively unchanged since the late 70's Tony took it upon himself to bring it up to his own standards. "I'd do little changes on it here and there, but always ride-able at the end of the day. One day, while at work, I decided to have a quick peep inside the primary cover. I pop the outer primary cover off, and low and behold, it had a chain drive primary. It was so frozen, kinked and dry, I couldn't believe it even spun! Luckily, I had a new Primo clutch at the shop, so I did a quick swap. Once I got the primary off, I figured I'd change the counter sprocket to a 26t for highway speeds. Since I had that off, I'd replace the main-shaft seal. Well shit, if I'm doing the main-shaft seal; why not replace the 4th gear spacer with a leak proof one? There's a guy in Canada that machines out a groove on the inside of the spacer, keeping oil from leaking out of the splines on the 4th gear. So yeah, since I'm in that deep, why not switch it out to jockey shift? It all snowballed into an all day project, in the middle of the workweek. Zero dollars made that day."
"It's a '54 Pan." Clearly a weak descriptor when it comes to the machines at hand. Three 1954 Panheads owned by three one-of-a-kind individuals who created three very distinct rides. The power of imagination is awesome when no two people have the identical approach.
MIKE CAVISTON
GENERAL
OWNER: MIKE CAVISTON 
SHOP: EVIL SPIRIT ENGINEERING 
SHOP PHONE: [email protected]
WEBSITE: EVILSPIRITENGINEERING.COM
YEAR/MAKE/MODEL: 1954 FLH PANHEAD 
FABRICATION: MICHAEL BARRAGAN 
EVIL SPIRIT ENGINEERING  (E.S.E)
BUILD TIME: 9 MONTHS  
ENGINE
YEAR/TYPE/SIZE:  1954 PANHEAD 1200CC
BUILDER: MICHAEL BARRAGAN E.S.E
CASES: ORIGINAL HD 54 CASES 
CYLINDERS: HD
HEADS: HD 
ROCKER BOXES: HARLEY 
CAMS: 1 CAM B GRIND 
THROTTLE BODY:S&S
AIR CLEANER: S&S
CARB: S&S SUPER E  
TRANSMISSION
YEAR/TYPE: 1954 HD 4 SPEED 
GEARS: STOCK HD 
CLUTCH: PRIMO RIVERA 
FRAME
YEAR/TYPE: 55 HD STRAIT-LEG FRAME  
RAKE/STRETCH: STOCK DIMENSIONS PROBABLY 30 DEGREE NECK
SUSPENSION
FRONT END: SPRINGER HD 
LENGTH: STOCK 
TRIPLE TREES: N/A 
SWINGARM: N/A 
REAR SHOCKS: N/A 
WHEELS, TIRES, AND BRAKES
FRONT: 21"
BUILDER/SIZE:
TIRE/SIZE:
CALIPERS: STOCK HD DRUM
ROTORS: NONE
REAR:
BUILDER/SIZE:
TIRE/SIZE: 16"
CALIPER: STOCK HD DRUM 
ROTOR: NONE 
FINISH/PAINT
MANUFACTURER:
COLORS: BLACK 
PAINT/GRAPHICS: BILLY RICK N ROLL RELICS 
PLATING/POLISHING: ASTRO 
POWDERCOATING: ASTRO 
ACCESSORIES
REAR FENDER: E.S.E MODIFIED PAN FENDER 
GAS TANK:  E.S.E MODIFIED HUMMER TANK 
HANDLEBARS:  E.S.E MODIFIED HD BARS 
GRIPS: STOCK HD 
HAND CONTROLS: STOCK HD 
FOOT CONTROLS:  E.S.E MID CONTROLS 
HEADLIGHT: BATES 
TAILLIGHT: STOCK HD 
LICENSE MOUNT: STOCK HD
SEAT:  E.S.E MODIFIED HD SOLO SEAT 
STEVE MOTTA
GENERAL
OWNER: STEVEN MOTTA 
SHOP: MOTTACYCLES 
SHOP PHONE: 310-623-0188
WEBSITE: N/A
YEAR/MAKE/MODEL: 1954 HARLEY DAVIDSON FL
FABRICATION: MOTTACYCLES 
BUILD TIME: ROUGHLY 1 MONTH BUT SLIGHT CHANGES ONGOING SINCE IT'S A DAILY RIDER 
ENGINE
YEAR/TYPE/SIZE: 1954 PANHEAD 74″
BUILDER: MOTTACYCLES 
CASES: HD 
CYLINDERS: HD
HEADS: HD
ROCKER BOXES: HD
CAMS: H-CAM 
THROTTLE BODY: N/A
AIR CLEANER: STOCK
CARB: LINKERT M74-B
 TRANSMISSION
YEAR/TYPE: HD 1954 4 SPEED WITH RATCHET TOP
GEARS: STOCK 
CLUTCH: STOCK 
FRAME
YEAR/TYPE: ORIGINAL HD 1954 WISHBONE RIGID 
RAKE/STRETCH: STOCK 30*/NO STRETCH 
SUSPENSION
FRONT END: HD FLATHEAD 45 SPRINGER 
LENGTH: STOCK 
TRIPLE TREES: SHAVED WITH LATER 2 PIECE PAN/SHOVELHEAD RISER 
SWINGARM: N/A
REAR SHOCKS: N/A
WHEELS, TIRES, AND BRAKES
FRONT
BUILDER/SIZE: MOTTACYCLES/ 23″ SPOOL WHEEL WITH BUCHANAN SPOKES AND ALUMINUM RIM
TIRE/SIZE: BRIDGESTONE 3.00-23
CALIPERS: N/A
ROTORS: N/A
REAR
BUILDER/SIZE: MOTTACYCLES/STARHUB LACED TO 19″ ALUMINUM RIM 
TIRE/SIZE: DURO 4.00-19
CALIPER: HD MECHANICAL DRUM BRAKE 
ROTOR: HD 51T BRAKE DRUM/SPROCKET  
FINISH/PAINT
MANUFACTURER: N/A
COLORS: BLACK/PRIMER
PAINT/GRAPHICS: FRAME WAS SLIGHTLY MOLDED AND PAINTED BY WW CUSTOM CYCLES 
PLATING/POLISHING: N/A
POWDERCOATING: N/A
ACCESSORIES
REAR FENDER: UNKNOWN CHOPPED AND SHAVED FRONT FENDER 
GAS TANK: NARROWED FAT BOBS 
HANDLEBARS: HD BUCKHORNS 
GRIPS: COKE BOTTLE STYLE 
HAND CONTROLS: HD INTERNAL THROTTLE 
FOOT CONTROLS: TOE-HEEL CLUTCH WITH HAND SHIFT/OEM MECHANICAL BRAKE. HIGH MID PEGS MADE BY MOTTACYCLES 
HEADLIGHT: ORIGINAL HD GUIDE SPOT LAMP 
TAILLIGHT: S&M LAMP CO. 
LICENSE MOUNT: CUSTOM MADE BY MOTTACYCLES 
SEAT: RICH PHILLIPS LEATHER BELT 
TONY NGUYEN 
GENERAL
OWNER: TONY NGUYEN
SHOP:  LANDSPEED MOTORCYCLE SHOP
SHOP PHONE: 714-983-6196
WEBSITE: WWW.LANDSPEEDMOTORCYCLESHOP.COM
YEAR/MAKE/MODEL: 1954 HARLEY DAVIDSON FL PANHEAD
FABRICATION: LIGHT FABRICATION, ALL DONE INHOUSE AT LANDSPEED
BUILD TIME: 1 YR
 ENGINE
YEAR/TYPE/SIZE: 1954 PANHEAD 74CI
BUILDER:   TONY NGIUYEN
CASES: 1954 MATCHING HD CASES
CYLINDERS: 74CI
HEADS: 1950 HD PANHEAD HEADS
ROCKER BOXES: CHROMED STEEL COVERS
CAMS: STOCK CAMS
THROTTLE BODY: N/A
AIR CLEANER: LINKERT BIRD DEFLECTOR
CARB: LINKERT M-74B
 TRANSMISSION
YEAR/TYPE: 1954 4 SPEED JOCKEY SHIFT
GEARS: STOCK 4-SPEED
CLUTCH: RIVERA PRIMO CLUTCH
 FRAME
YEAR/TYPE: 1954 FRAME CODE 3G (3= 1953 G=JULY, CORRECT FOR 1954)
RAKE/STRETCH: STOCK RAKE, NO STRETCH
 SUSPENSION
FRONT END: RL I-BEAM SPRINGER FORKS
LENGTH: STOCK LENGTH
TRIPLE TREES: HELLING STELLING RISERS
SWINGARM: N/A
REAR SHOCKS: N/S
 WHEELS, TIRES, AND BRAKES
FRONT
BUILDER/SIZE: OEM 21" STAR HUB WHEEL
TIRE/SIZE: 3.00 SAFETY STRIPE TIRE
CALIPERS: N/A
ROTORS: N/A
REAR
BUILDER/SIZE: OEM 18" STAR HUB
TIRE/SIZE: 4.00 AVON MKII
CALIPER: MECHANICAL BRAKE
ROTOR: DRUM BRAKE
FINISH/PAINT
MANUFACTURER: WHITE FRAME, UNKNOWN PAINTER
COLORS: WHITE FRAME, DARK METALLIC BLUE TANKS, AND BLACK FENDER
PAINT/GRAPHICS: HARLEY DECALS
PLATING/POLISHING: NOPE
POWDERCOATING: NOPE
ACCESSORIES
REAR FENDER: WASSELL FENDER
GAS TANK: HARLEY PANHEAD TANKSHIFT 3.5G TANKS
HANDLEBARS: SWAPMEET 16" APES, SHORTENED AND NARROWED
GRIPS: PANGEA SPEED RONALD GRIPS
HAND CONTROLS: N/A
FOOT CONTROLS: FOOT CLUTCH, JOCKEY SHIFT AND MECHANICAL REAR BRAKE
HEADLIGHT: UNKNOWN CRUSTY PANCAKE STYLE HEADLIGHT
TAILLIGHT: PIG TAILLIGHT, AT ONE TIME OWNED MY MR. DAVID POLGREEN
LICENSE MOUNT: BUNGS WELDED TO KICKERPARTS DYI BAYONET SISSY BAR
SEAT: BATES BABY, BATES…