Tucker Preps for Big Week at AIMExpo
The Tucker Powersports team is running at full throttle in preparation for AIMExpo in Las Vegas next month. Staff and exhibit planners are creating an experience on the Tucker "campus" that rivals other events the company has done in both number of activities and dealer interest.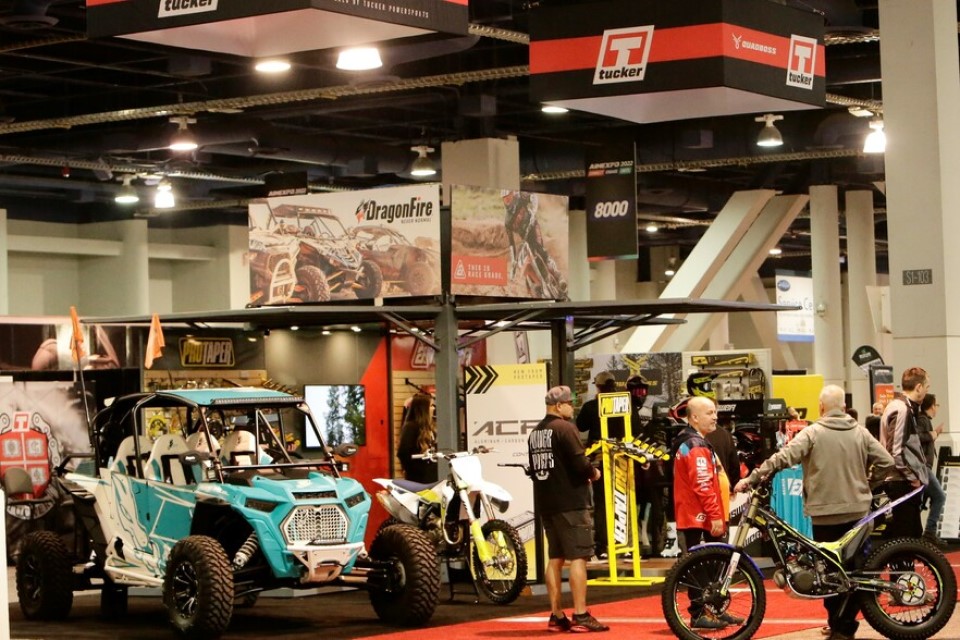 "We're working hard to be ready for a record number of dealer attendees and a building that's jam-packed with great products," said Tucker VP of Marketing Lesley Madsen. "I'm excited to feel the energy in the hall this year. We all want the world to get back to normal, so now let's get back to business."
Open MIC Nights
The Motorcycle Industry Council, producer of AIMExpo, reports that registrations from dealer attendees is at the highest level in the show's ten-year history. With several companies recently signing on as exhibitors, the show at the Las Vegas Convention Center is virtually sold out.
A big portion of the exhibit space has been claimed by Tucker, which is creating an experience highlighting the distributor's "owned" brands as well as several of the products which are exclusively distributed by Tucker. Tucker's exhibit space will be in the center of the show and will offer easy access to many of Tucker's partner companies, to the New Products stage and to other presentation areas as well. Not only will Tucker be showing its latest products, but the company will also highlight Tucker University, the company's training program, which allows dealership staff and Tucker field reps to stay "in the know" for the latest news and information on Tucker-distributed products.
Vegas Vacation
All of the Tucker sales reps will be in Las Vegas participating in product training and helping their dealers who are attending the show. The company will offer show specials on orders submitted by dealers while in Las Vegas.
"As the excitement for the upcoming show continues to build, we want to thank Tucker and the hundreds of other exhibitors for the commitment they are making with us to create the powersports event of the year," said Andre Albert, director of marketing and events, Motorcycle Industry Council. "I for one can't wait to see all the new products Tucker is unveiling at the show."
Tucker will highlight several products that have never been shown to the public before, including Forcite Helmets, the newest products from Dainese and Answer Racing's 2023 product lineup. The company will also announce several new products and new partnerships at the show.
AIMExpo 2023 runs from Wednesday, February 15 to Friday, February 17 at the Las Vegas Convention Center. Dealers and Media can register here.