Zipper's Performance Muscle 128 for Milwaukee-Eight
When Zipper's Performance says a V-twin hop-up kit of theirs is the most powerful of its kind they've ever made, that's a bold statement. Nonetheless their Muscle 128″ Kit for the 114-117 ci Milwaukee-Eight is the most powerful top end and cam kit they've ever created for a production motorcycle. The big breathing 4-valve heads on the M-8 engine just love displacement, so they developed this kit for use with their new 4.250-inch bore drop-on cylinder.
These cylinders are fitted with flat-top forged pistons and topped off with Zipper's Performance Stage III CNC headwork performed on your cores. The company's Red Shift 552 cam delivers major torque as soon as you open the throttle. And carries it across the RPM range to provide instant acceleration from any RPM.
Components included in Zipper's Muscle 128-inch kit are:
Zipper's 4.250-inch cylinder and piston kit
Zipper's Stage III CNC headwork (on your cores)
Red Shift 552 cam and bearing
Quikee pushrods, covers and tappet cuffs
Top end and cam gaskets, new headbolts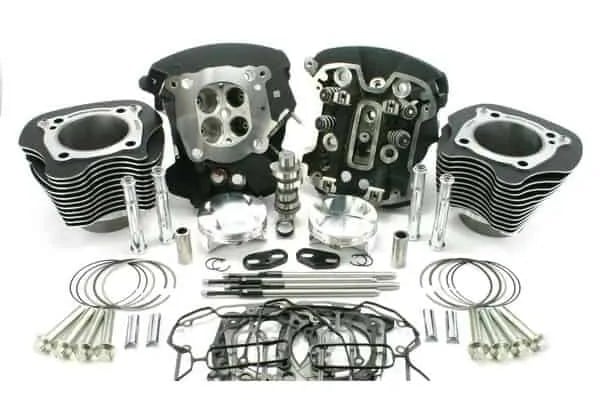 Compression is set to a relatively modest 10.9:1 with 225# cranking compression – same as stock, so starting is not an issue. It has an amazing sound at idle and under load, with 67 more horsepower than a stock 114 or 117, peaking at 5,800 RPM. Peak torque starts at 2,800 rpm – 50 pounds more than stock, staying at nearly 150 ft/lbs for over 2,000 RPM, right where you ride! This super-flat torque curve delivers sport-bike-punishing instant throttle response at any RPM, allowing the bike to be ridden like a stocker when desired – But what fun is that? An EFI tuner, performance exhaust, oversize throttle body, injectors-intake will be required to achieve results shown.
Requires your heads to be provided for modification. Exchange parts may be available. Contact the V-twin parts manufacturer for availability.