2020 Harley-Davidson CVO Road Glide Test | The Motherload Motorcycle
The CVO Road Glide was love at first sight when I saw it. That Premium Sand Dune grey paint, the crimson-outlined tank badges, and the smoked chrome finish dripping off the fork legs, floorboards, and exhaust really had my heart racing. When we finally stopped the gawking, slobbering, and then threw a leg over it, that's when we really figured out what was up with this beautiful-looking machine.
The 117ci Milwaukee Eight driveline is no joke. With a bore of 4.075 and a stroke of 4.5-inches, this engine has 126 ft-lb of torque and a very positive-shifting six-speed Cruise Drive transmission. H-D states that the CVO Road Glide gets 41 mpg, but our test bike averaged out to 38.6 mpg the time we had it. That's because we were always running it up to the rev limiter with glee.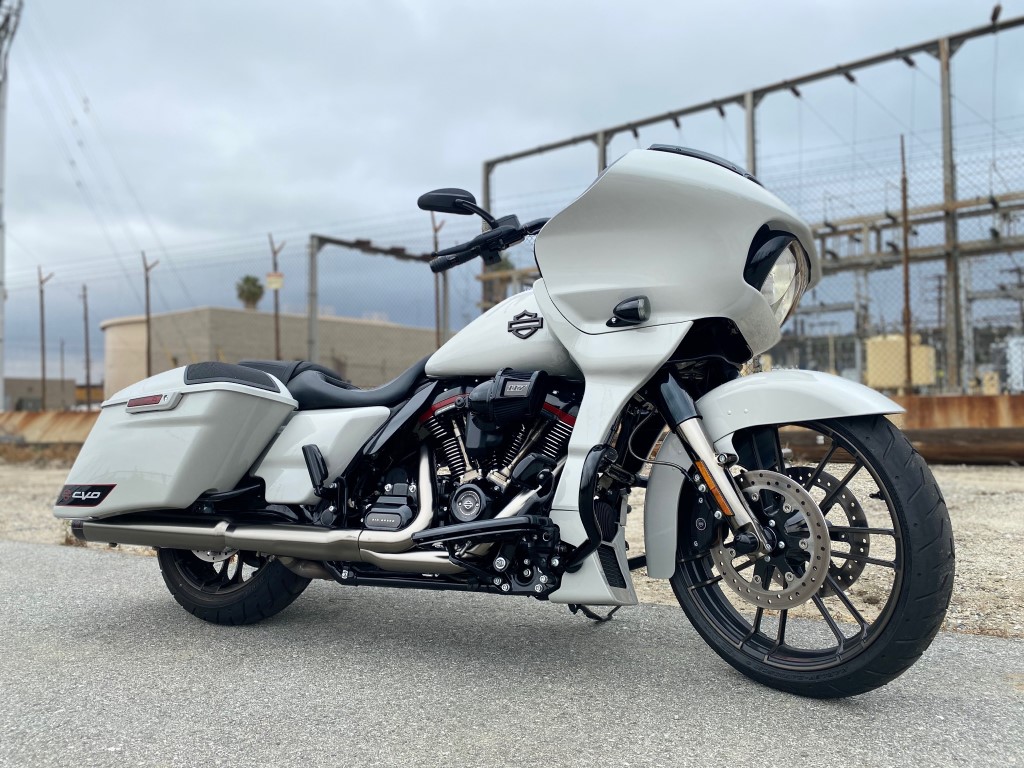 The bike has a seat height of almost 26-inches. This is pretty good for a motorcycle that has close to 5-inches of ground clearance. The CVO Road Glide's lean angle is a pretty healthy (for an H-D Bagger) with 33.9 inches on both the left and right. If you take all these numbers into account it could be said that there is not a lot of room for any sort of reasonable suspension actuation. But to tell you the truth, I was not hating the CVO's stock suspension once I spent a bit of time getting it set up.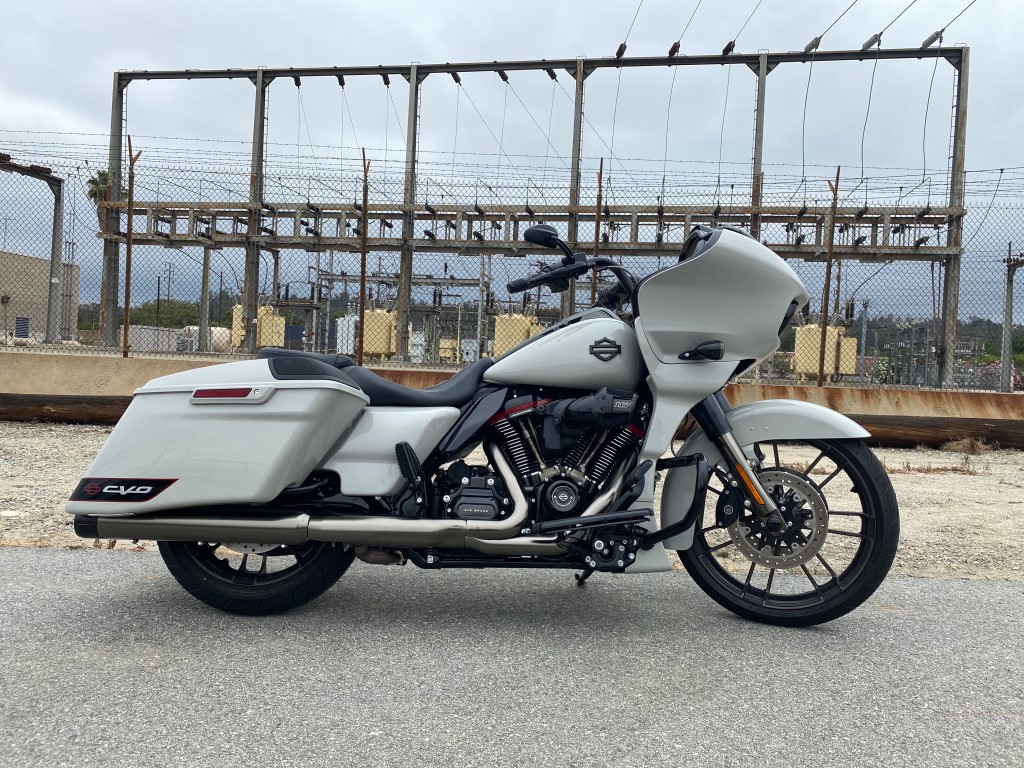 This bike also comes with a Knockout 21-inch front wheel with a 130/60/21 Michelin tire from the factory. This may not seem like a big deal for some, but getting the Department Of Transportation to back your big wheel and tire combo is not as easy as one would think. And coupled with the 18-inch rear wheel wrapped with a Michelin 180/55/18 wide rear tire, the bike's stance looks mean as hell. With the CVO's 4-piston Brembo brake calipers all the way around we had no issue stopping the bike even with the taller front wheel and wide rear tire.
Reflex Action
This bagger comes complete with some pretty majorly upgraded and updated technology. The H-D Reflex Defensive Rider Systems aka RDRS. This system has an Anti-lock Brake System (ABS) newly coupled with Cornering Enhanced ABS that provides braking pressure based on the bike's lean angle. So when you are braking on a curve, the system will calculate in milliseconds how much traction is needed and automatically adjusts just enough brake pressure to keep the optimal amount of lateral grip. Other braking enhancements that the RDRS provides is Electronic Linked Braking aka ELB and Cornering Enhanced braking aka C-ELB.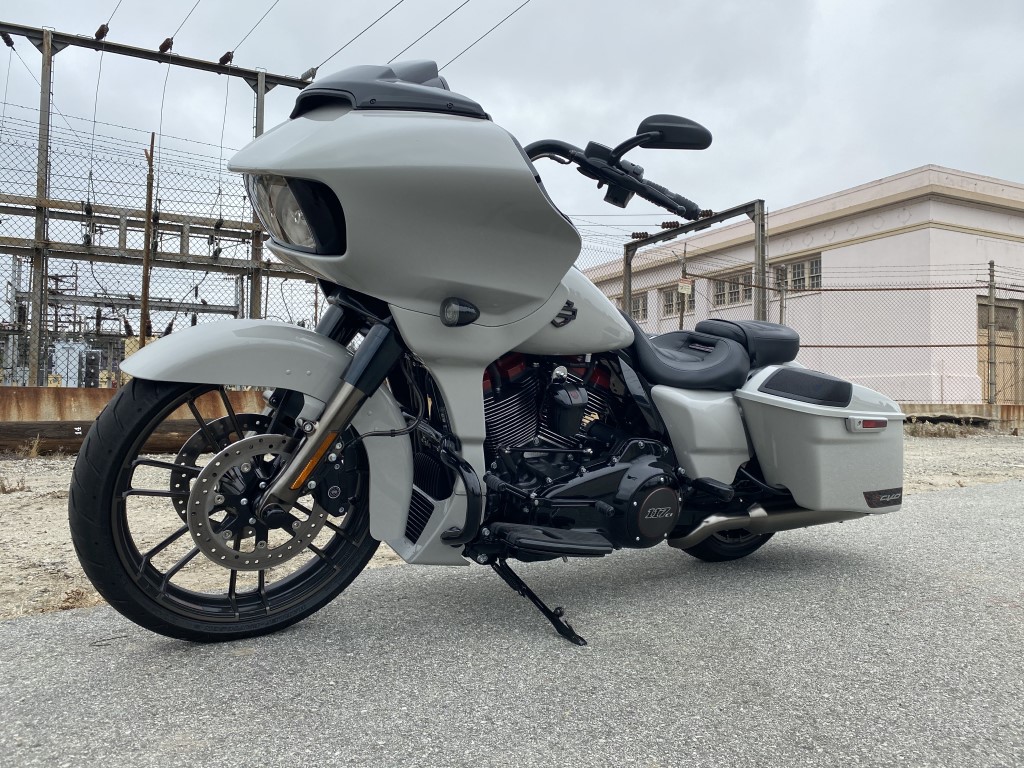 Yes, all these letters actually mean something when it comes to the performance of the 2020 CVO Road Glide. ELB applies braking effort when a rider uses either the front hand brake or the rear brake pedal. C-ELB can adjust and alter the brake proportioning pressure between the front and rear brakes when you are on the binders, which can improve stability. The RDRS system also has Cornering Enhancement Traction Control aka C-TCS it keeps the wheel from spinning out (sorry all you drifting dudes) while cornering. But wait, there's more. The system also has Drag Torque Slip DCDS and Cornering DCDS. These both have been designed to reduce rear wheel slip under deceleration both in a straight line and around curves. Yes, all these are great and really do work when you need them as I have proven, but my favorite asset of the RDRS system is the VHC feature.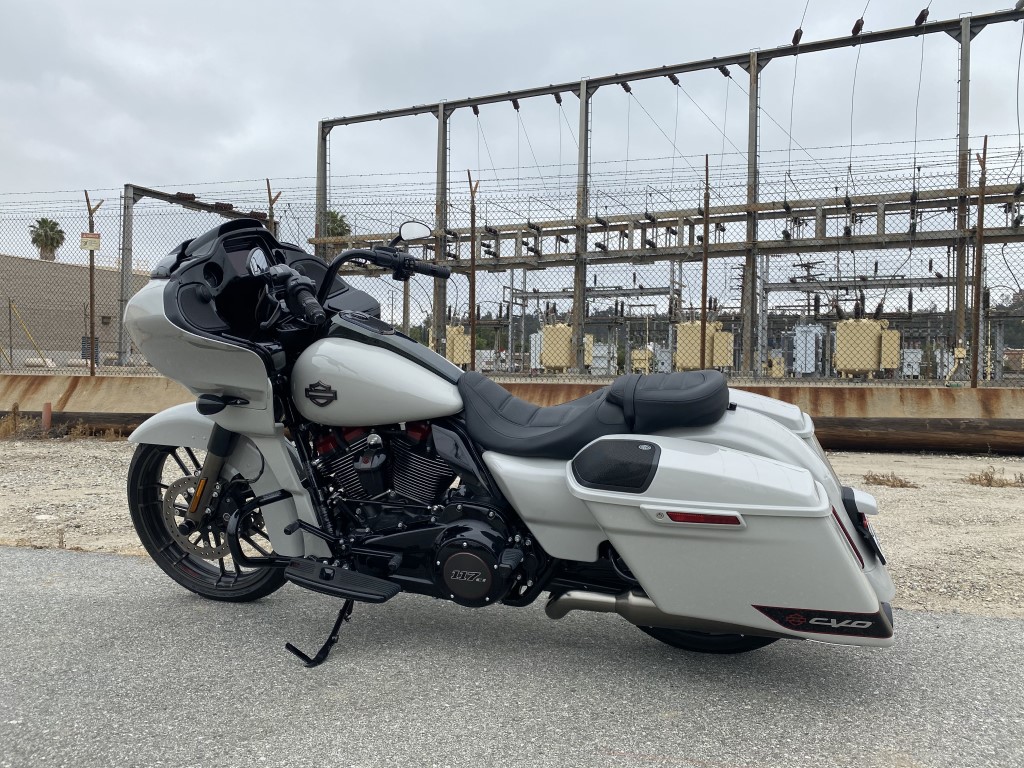 As we all know when on a upward incline it is not so easy to get a 900-lb bike that is 96.9 inches long (especially if there is a passenger) moving when you are feathering the clutch and covering the brake simultaneously. well, the Vehicle Hold Control applies rear brake pressure for you (like many manual transmission car's hill lock) until you are intentionally stable and rolling up the incline. I put this bike through its paces and found that the RDRS was jam-packed with features that make riding safer. I am sure many of you are going to have to get used to many of these new electronic creature comforts and riding aids, but I for one though it added a welcome new level of performance to Harley-Davidson baggers.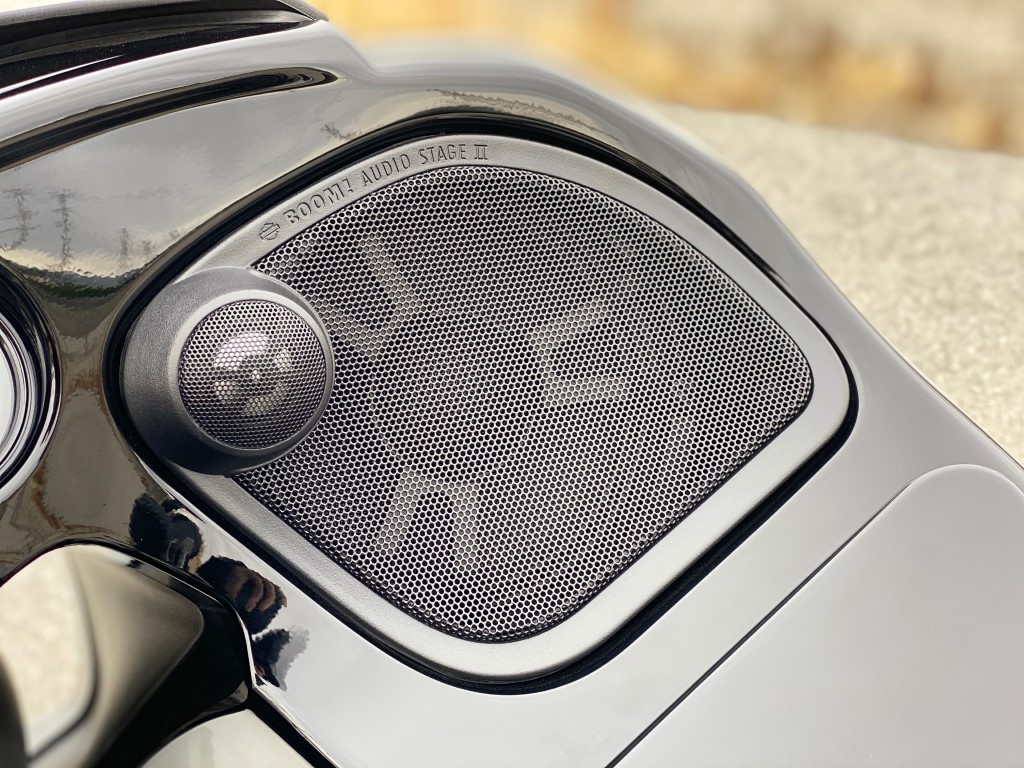 Speaking of electronics, this bike comes of course with BOOM! audio. But not just the entry level stuff. It comes with Boom! Box GTS Audio with 75 Watts per channel. Combined with the Infotainment system, it was a very impressive sounding set up even into triple-digit speeds. It had a very clean and unmuffled tone and didn't sound muddy at higher volume like may other Bagger auto systems.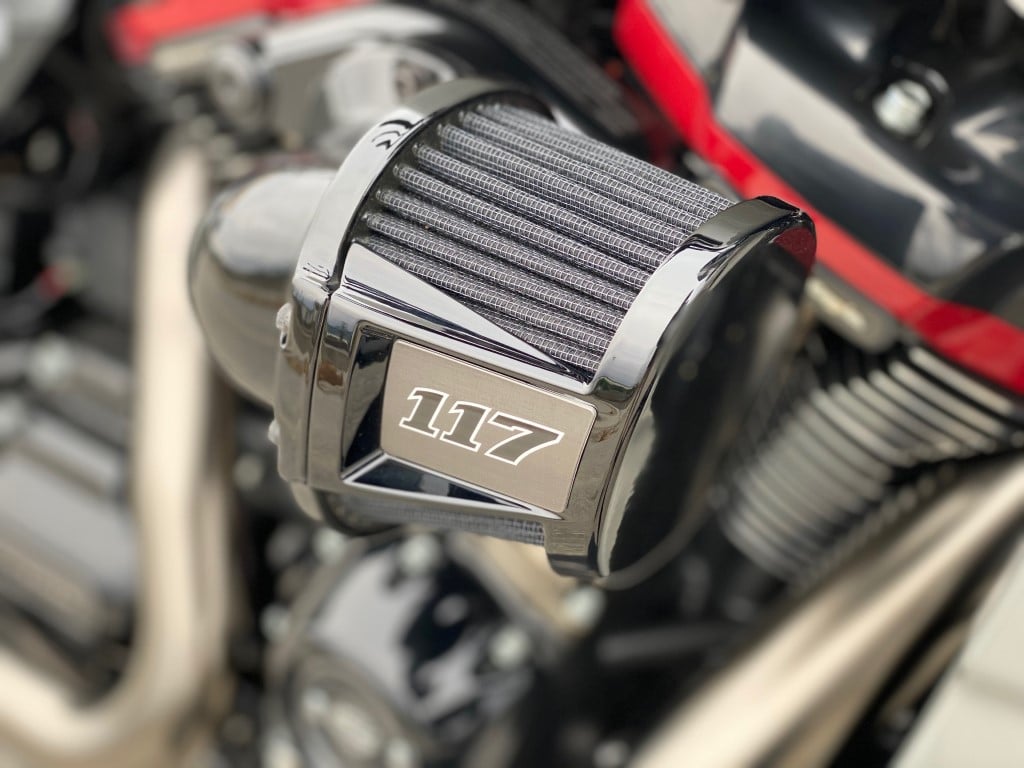 I was lucky to have this bike for a few weeks and I can attest that it is an attention grabber form regular folks and Harley aficionados alike. I was never the biggest fan of baggers until the past few years. I had a Road Gilde in 2008 then another one in 2012 and that really was enough for me I just rode Dynas and FXRs outfitted with bags and fairings instead. They just felt heavy and they wobbled like crazy between 85 and 90 miles an hour.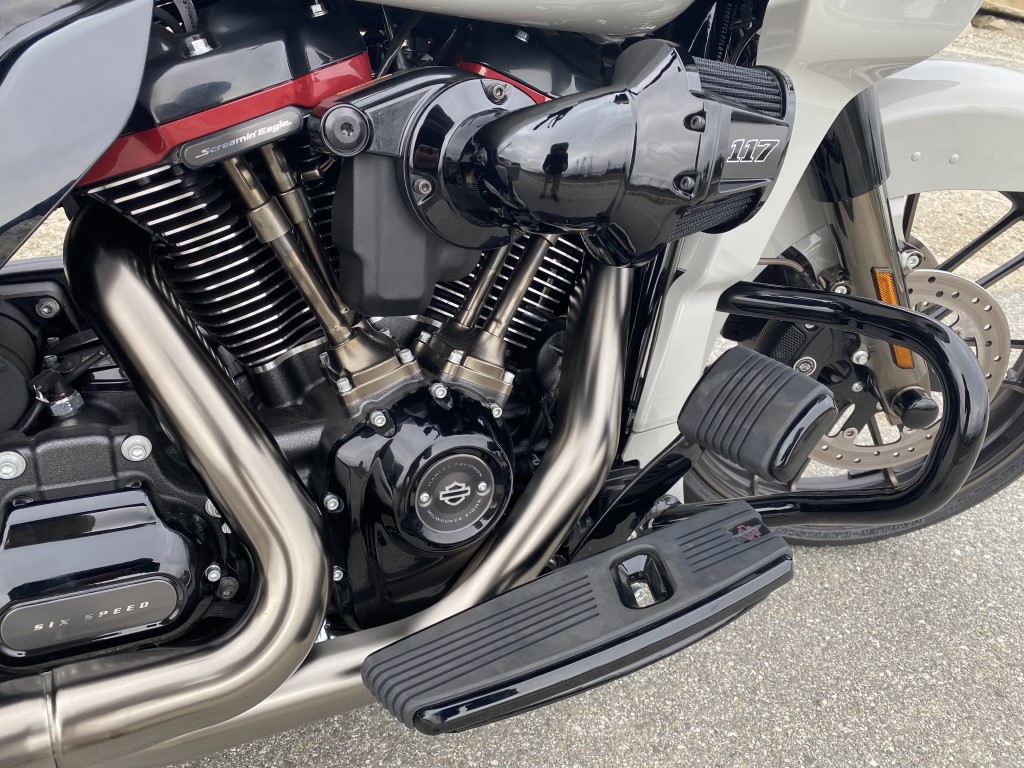 But I can tell you with all honesty that the newest Baggers, especially this flagship model, ride amazingly. They now feel light, have a ton of power, and handle well at both high and low speeds. Kudos to the design team at H-D for taking an old design that didn't perform exceptionally well and making so many advancements in a rather short period of time. I really enjoyed riding this bike and subsequently went out a got an H-D bagger as my daily commuter. So you could say that this CVO Road Glide rekindled my love for the H-D touring lineup altogether.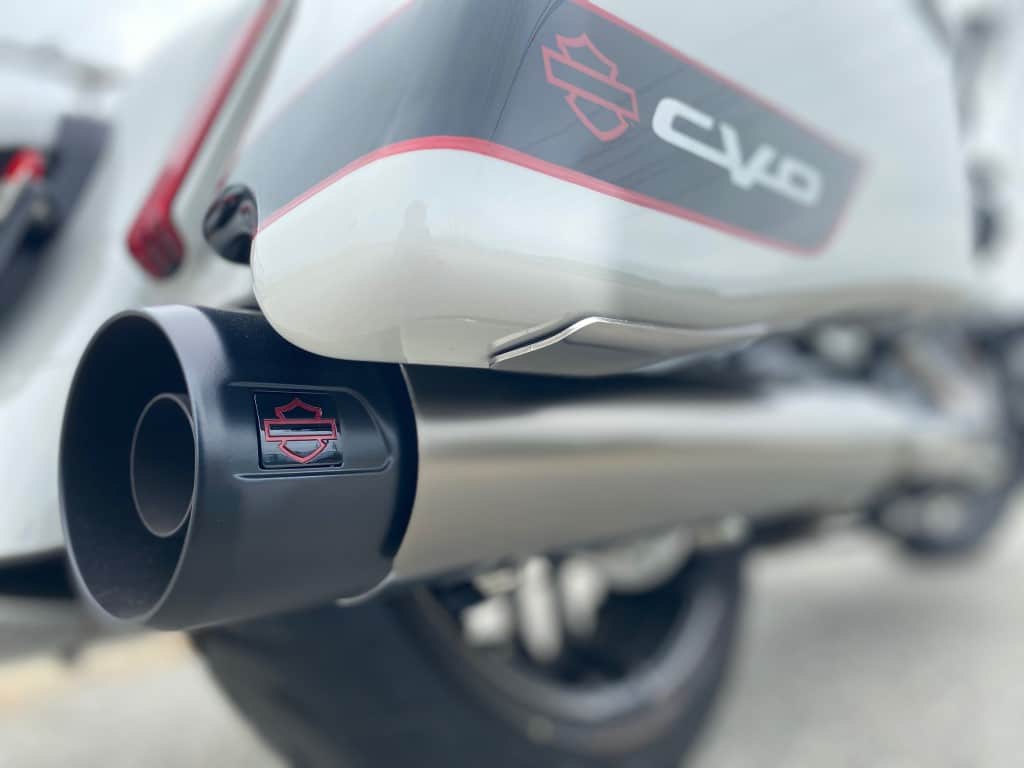 This $41,000 bike is the pinnacle of Harley-Davidson's performance bagger existence. But I know what you are thinking about its price tag. I also know that you have two questions for me. The first being do I think is is worth the money? And second, what performance upgrades I would do if I bought one?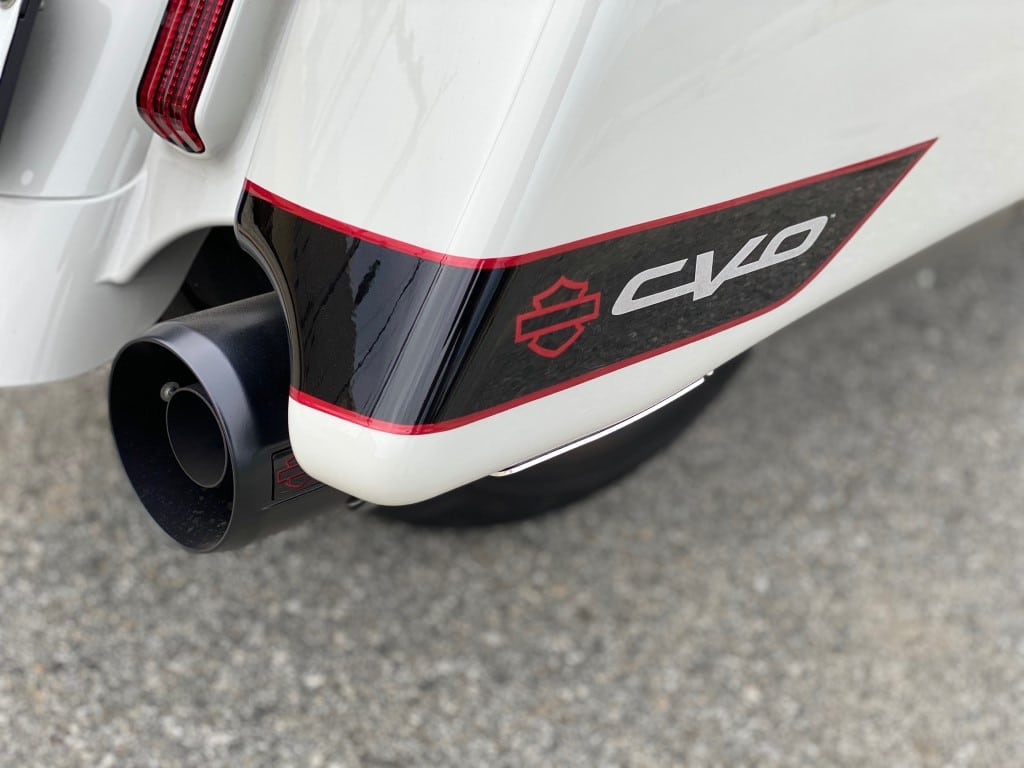 Yes, I do think it is worth the money. In the past I have had many arguments with folks about buying a CVO vs. building a similar bike. And I before the Milwaukee-Eight era of CVO's I would have told you to not buy one. But these bikes are just so nice from the factory floor. The Custom Vehicle Operations tear real took the bull by the horns and made themselves into the AMG of the two-wheeled world. So, in 2020 I say If you can afford the price tag, then buy it. If not, get yourself a regular Road Glide and spend some time piecing together your own performance Bagger as your pocket book allows.
As far as the second questions goes; I would change the handlebars to something taller and flatter, bolt on a one-piece two-up seat, add a set of remote reservoir rear shocks and to finish it all off get myself a free-flowing intake and exhaust. Then I would get it dyno tuned and call it a day.