Bell Brawl Returns to Sturgis Buffalo Chip
Bell Powersports excitedly announces the first stop of the 2020 Bell Brawl, a first-of-its-kind V-Twin specific motorcycle stunt contest, at The Legendary Sturgis Buffalo chip on Sunday, August 9th, 2020 in Sturgis, South Dakota.
With three seasons under the "Bell Brawl" belt, the "Brawl" stunt competitions set the standard as a platform for professional V-Twin stunt riders. The event showcases what's possible on 600-plus pound motorcycles. The "Brawl" is invite-only, giving 20 highly talented stunt riders the opportunity to display their abilities. Additionally, it rewards the best top three riders of the day with cash and prizes.
"After canceling the first two scheduled stops this season due to Covid-19 Pandemic, we are super excited to be able to bring this event together in Sturgis for the riders," Brett Conley Brand Marketing manager for Bell Helmets says. "The Brawl was ultimately created for the riders and I know these competitors are all eagerly awaiting a chance to finally get out and shred again after months of down time."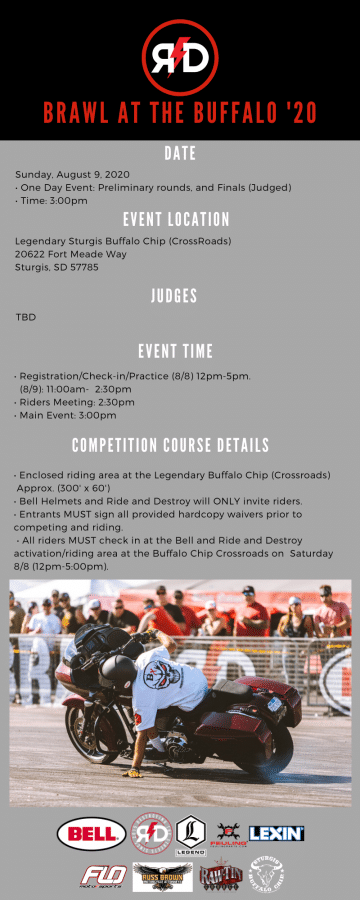 The "Bell Brawl" at The Buffalo Chip's Crossroads starts at 3:00pm (08/09/20) during the 80th annual Sturgis Rally at 20622 Fort Meade Way, Sturgis, SD. Preliminary rounds for all invited riders take place first. From there, the field narrows to a final round of five to determine top honors.
"I can personally assure you that the riders and fans of the Bell Brawl have been waiting for this event after what has occurred this year," stated Max Kuszaj, the event coordinator and owner of Ride and Destroy. "The riders are ready, the fans are ready, and we are ready to host the first Brawl of the season, while practicing the best health guidelines possible."
Highlights from the competition will be uploaded to all social media outlets. (@Bell_Powersports and @Ride_and_destroy_com)
The 2020 "Bell Brawl" at The Buffalo Chip is supported by: Bell Powersports, Ride and Destroy, Legend Suspensions, Feuling Parts, Sturgis Buffalo Chip, Russ Brown Motorcycle Attorneys, Lexin Moto, Raw Tin Garage, and Flo Motorsports. All event information and competition rules are available here.