Brock's BST Carbon Fiber Wheels 1000-Mile Thrash Test
We were fortunate enough to get a set of Brock's V-Twin BST carbon fiber wheels onto our project 2019 Harley-Davidson Softail Lowrider. This isn't our first foray into non-ferrous lightweight wheels, but with BST's reputation within the V-Twin performance ranks we were very excited to see just what kind of performance could actually be had with a carbon fiber wheel swap.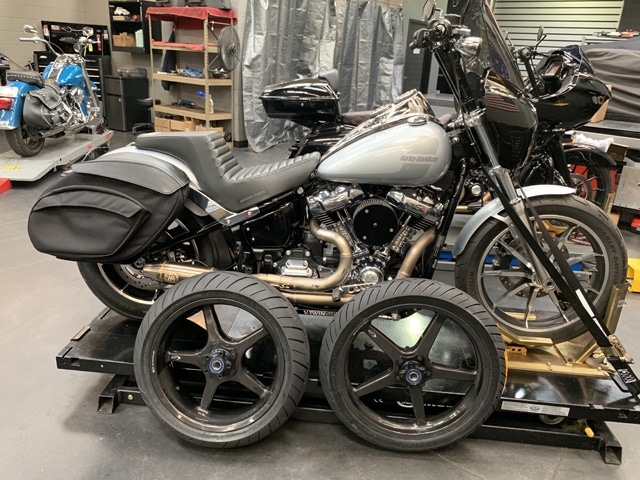 Weighing between 40 and 60 percent less than OEM wheels, BST wheels claim to have have less rotating mass, faster acceleration, and quicker braking than spoked and aluminum wheels. Brock's also told us that lighter wheels are also easier for suspension systems to control over bumps and irregular surfaces, yielding to more traction and unimpeded acceleration. Moreover, Brock Davidson informed us that with BST wheels the mass of the wheel is more concentrated in the hub. That detail means greatly reduced rotational inertia for each wheel resulting in better braking and faster acceleration.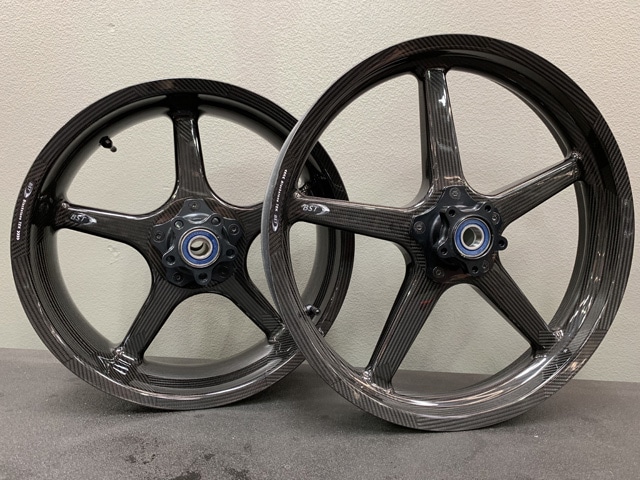 As we were bolting the wheels on the bike we also upgraded to a chain drive, Beringer brake calipers with three Beringer Aeronal rotors, and a set of Continental Attack tires (look for all of the these in separate 1000-mile thrash tests) The wheels were very much lighter out of the box than the stock H-D wheels weighing in at 10.6lbs out back and 8.4lbs in the front. Once the upgraded tires, brake rotors, and sprocket were installed on the carbon wheels, the rear BST setup came in at 25.01 in the rear (the H-D was 50.21) and the front BST weighed in at 20lbs with tire (the H-D was 31.6) so it was a pretty dramatic weight reduction of 36.71lbs.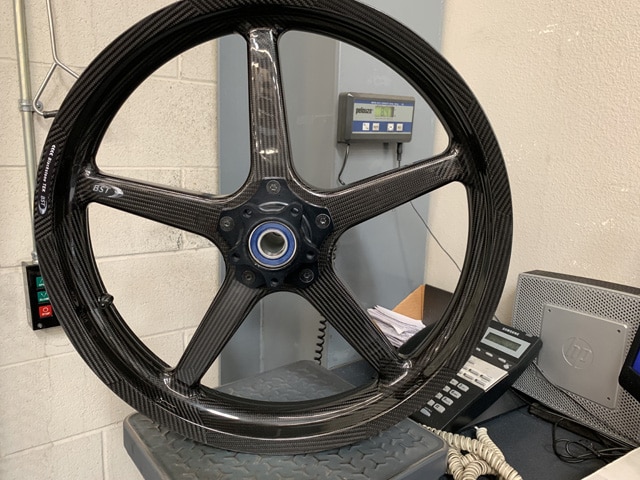 With the Wheels on the bike we peeled off a quick 100 miles in the Arizona sun on the same course we road the day before with the stock wheels. We did feel that the acceleration was quicker off the line, but because we majorly upgraded the complete braking system, we didn't really have anything to base the better braking claim upon.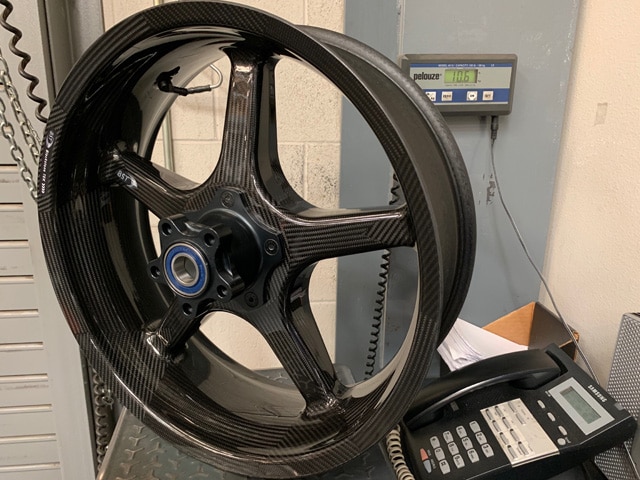 We did actually adjust our suspension a bit softer than normal as it felt like both the front and rear suspension was now rougher than it felt with the stock H-D wheels. The bike was ridden in and around So Cal shortly after the engine was upgraded to a 125ci kit from Leading Edge (more on that in yet another 1000-mile thrash test) and by majorly bumping up the horsepower and torque over stock the lighter wheels were not in anyway hampering or impeding the upgraded performance the bike now had.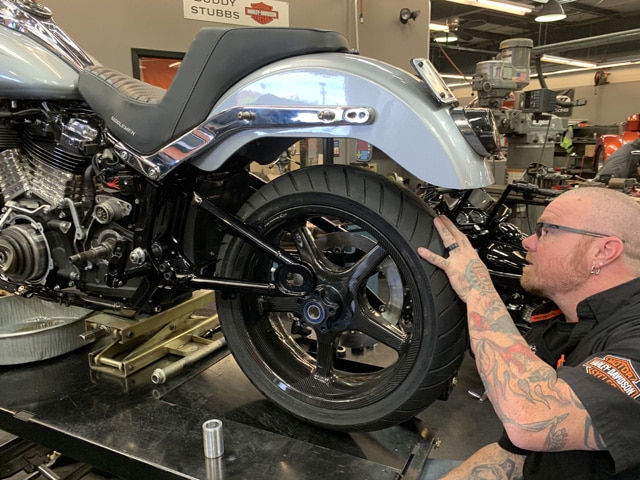 The real test of these wheels came when we hit the Smoky Mountains of Tennessee on the VTV Tour. Five days of daily 6-8 hour jaunts riding some of the best roads in USA we got to really understand the benefits of the BST wheels. When jamming into hairpin corners using all the brakes the bike has and then accelerating out of them as fast as we could we felt like we were on one of the latest sport bikes, not on a Harley. At the half way point of each ride we switched bikes with a stock-wheeled Softail and it was immediately evident that the lighter wheels were working some real wonders. Since riding in Tennessee we have been very happy with the wheel upgrade and honestly feel that it is one very worthwhile upgrade to a true performance H-D. Especially to a 2018-2020 Softail or Bagger.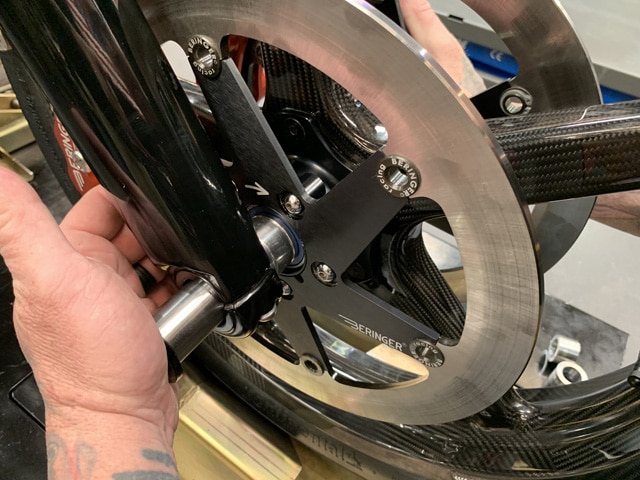 Yes, we have been only speaking of the good the Brocks BST wheels possess. What would we say negatively about the wheels? After some debating with all of the folks who have ridden this specific Softail outfitted with these 19 and 18-inch wheels we really can't find a single thing to really bitch about. Yes, the price of the wheels is high at $2000+ each, but we feel that getting this kind of weight off a heavy V-Twin motorcycle indeed makes its own kind of horsepower. Yes, we can tell you that $4000 in suspension and engine upgrades does go a long way, but just maybe not as much as getting almost 40 pounds off a bike… maybe.
Time and time again when we test new bikes and ride other V-Twin machines without Brock's BST wheels we wonder just how much better each and every bike would be with carbon fiber wheels. And the answer is undoubtedly all bikes would ride, accelerate and handle better with a set of these wheels.