Drag Specialties Low Profile Solo Seats
I'm sure Drag Specialties Seats is tired of me (and others) making "How Low Can You Go?" references in the titles and subtitles of Low Profile Seat stories/posts. So, I'm going to give that worn out, dog-eared trope a rest. Absolutely nowhere will you find "How Low Can You Go?" in this post. You're welcome, America.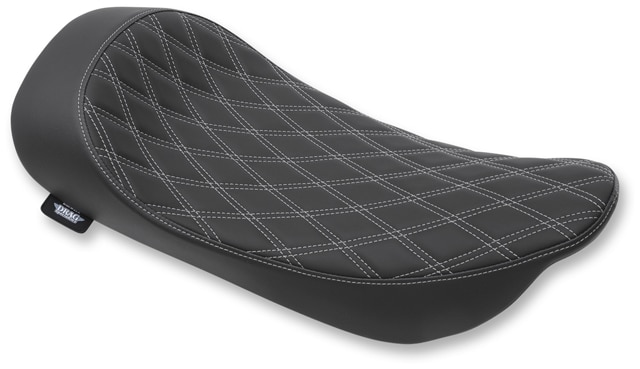 These seats feature solar-reflective leather in the seating area and automotive-grade vinyl on the sides. This patented process reduces surface temperature by as much as 25°F for a cooler seat, higher durability and longer life over conventional leather or vinyl. Underneath is a flexible urethane foam interior to provide maximum comfort. The 3/16-inch ABS thermoformed seat base has a carpeted bottom and rubber bumpers to protect paint from damage. A handy EZ-Mount system requires no tools for taking seat on and off. Seat geometry places rider 2″ further back and up to 1″ lower (depending on model) than the stock seat for a better rider position with improved styling. The seat also covers the two seat fender studs for a low, clean look. Can be used with Drag Specialties solo rear seats (sold separately) and includes mounting hardware. Proudly made in the U.S.A. Available with your choice of black or silver double-diamond stitching for 97-07 FLHR, 06-07 FLHX H-D models. Suggested retail starting at $328.95. Find out more here.