Dynamite Crew/Ape Hangers Garage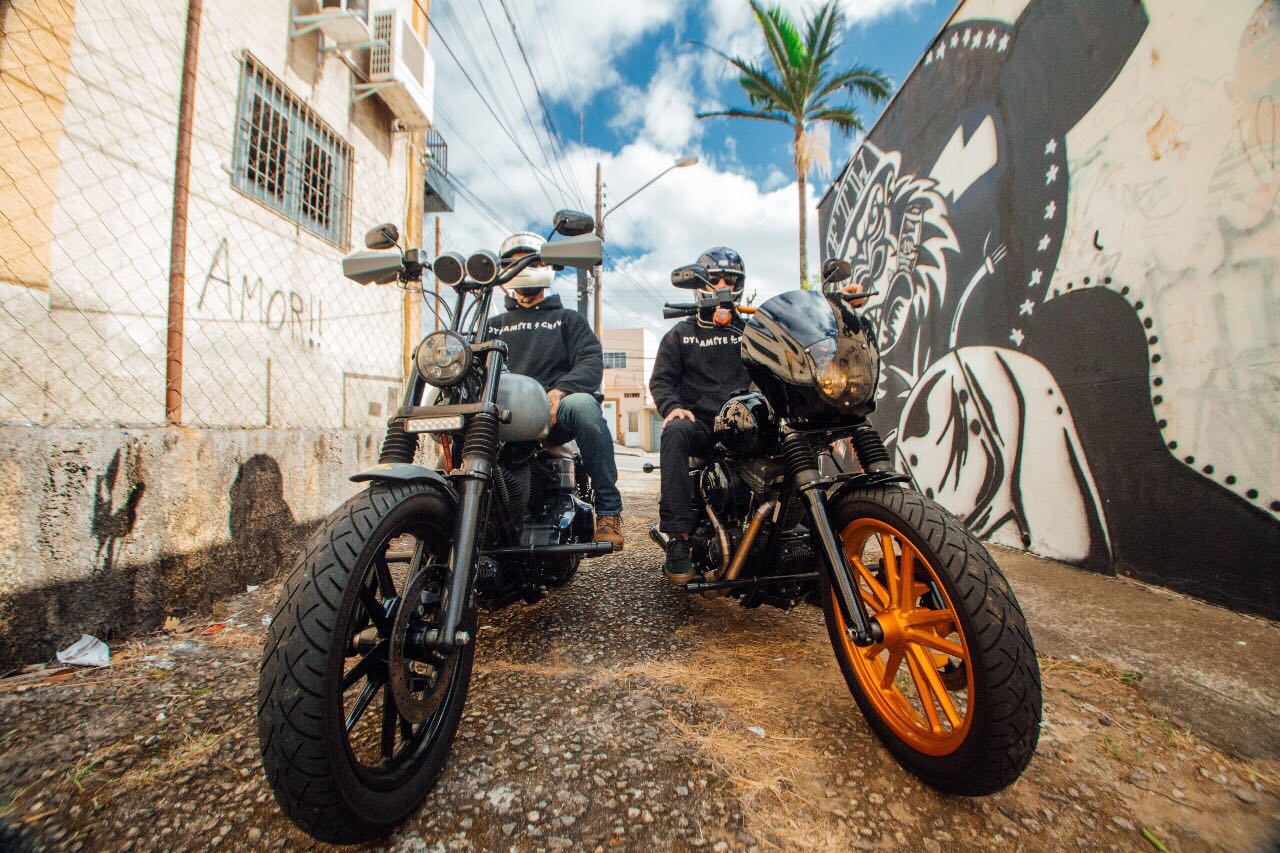 Tell me about how Dynamite Crew came to be?
So we could never imagine where that would take us, we always paddled as things went on. The initial idea of our founder (@jp_fgoncalves) was to create a database to serve as inspiration for our future builds. When we started we wanted to see references closer to the reality of California's young riders, not just the ones on Google searches that always led to black on black bikes. Due to our commitment to find the most cool references to supply this collection, which at the time was just personal, the number of our social media followers was increasing. At the same time both my associate and founder (@jp_fgoncalves) and I (@raphaelbanos), we were having not the best financial time. We were opening a new business, both of us were getting married and we did not have the money to run everything, so we started with small merchandise that was easy to ship, such as stickers. With the first production selling out quick, we doubled the next production them doubled that order and yes, that was the start of everything.
How about Apehangers Garage?
Ape Hangers Garage came about when Jp and his partner (@kadersayed) came together thinking builda place related to a Harleys' cosmetic care and a place to gathering for Brazil's small biker crowd. Over time the shop added a service area and a space to wash the bikes, drink beers and make small upgrades to bikes. Gradually the larger builds were gaining form and space. Dynamite Crew brings attention to the builds made by Apehangers Garage and by the quality of the services we provide ended up becoming the Brazil's reference for club-style Dynas and then the development of parts related to this style evolved from it.
Who is involved in both Dynamite Crew and Ape Hangers? 
JP runs the show. i'm a brother from another mother from JP and very close friend to the shop guys. JP is the mind behind to all builds and my job is to find new parts, develop new products and provide technical support to all the stuff we are working on.
What city is it in?
We re based in São Paulo- Sp, Brasil.
How long have you been doing it? 
Ape hangers garage its about 5 years and Dynamite Crew about 4 years.
Why are you doing it? 
Like I said before, at the beginning our idea was just to have a lot of references. Today after the direct contact we made with riders and brands in USA, we know the importance we have to promote young talents and boost brands from all over the world. Much of what we do is out of love for this culture, which means so much to us, Secondly, we discovered a way to get out of the digital world and to go to the real world, with the development of our products. Traveling also serves as great research experience. Even from so far, to be able to create products and references for a market as competitive and mature as the American. It's a great pleasure for us to see that products that we develop are being used in the USA, Asia, Europe and beyond.
How did you get into riding Harley's?
Our city (Sao Paulo) is a very dangerous city to ride street or trail bikes. There are many robbers and they operate in a very violent way. Japanses bikes are very popular to steal. So much so that the insurance on a Japanese motorcycle is practically 25% of the bikes value annually. Even if we are willing to pay the insurance, we would still be at real risk of being murdered. And as we live in poorer neighborhoods, that statistic gets even worse! But we still wanted to ride motorcycles and built bikes that even surpass the most sport bikes in speed and handling. Harleys are not the most accessible bikes here, but the risk of robbery is infinitely less, so at first it was our option to keep safe. Once we started riding Harleys we were very frustrated with having such big V-Twin engines with such a low yield. So we started to modify the bikes to get above 120 mph. And so the club style builds we do really suits our needs.
How do you compare your scene to the scene in the USA?
The scene in the United States has always been and always will be a reference for Kustom Kulture. In general, all the great manufacturers, brands and influencers are from the USA. I'm not only talking about Club Style, but in a general way. When we started the scene was quite different. Only a few brands had exclusive products for Dynas and FXRs, but after the boom of this style, we were able to see  them thanks to the internet. Today, in Brazil, our builds are well accepted, but the great majority of Harleys owners here are closer to John Travolta in the movie Wild Hogs. Still, our access to parts that comes from outside Brazil is very restricted and expensive, which limits our creation. When we started, a lot of people still were all about tall t-bars and panel paint, today we see that we already have customers looking for the best performance parts to build their bikes with. We know there will always be a constant in terms of new research and developments to try to equate the supply of our products with what the rest of the world has. Its a challenge we accept.
How hard is it to get parts and bikes?
It is very difficult, even for us that we have partners and sponsors is very difficult, any part that we receive via courier suffers taxation of 60-100% of the value of the part. And that dent even include shipping. Brazil is a very complicated country in terms of taxation. Our dealers are barely stocked with critical parts for maintenance. Maybe that's why it has been our focus to develop parts. Only then was it possible to have products as we wanted and be able to overcome these customs difficulties.
With regard to complete motorcycles, the entire import process, mainly for old motorcycles was re-opened this year, but the rates are insane, making it impossible to bring in Brazil's unicorns: FXRP and FXDXT!