From the Quartermasters School to Harley-Davidson University
Production for Harley-Davidson in the 1917 model year was devoted to military motorcycles by nearly half of all motorcycles made. H-D saw the new need for military quartermasters and mechanics to know the motorcycles front to back. So, in Milwaukee, Wis., in July of 1917, the very first three-week intensive course was held. The students were nine corporals from Fort Sam Houston, Texas. The Harley-Davidson Quartermasters School was born.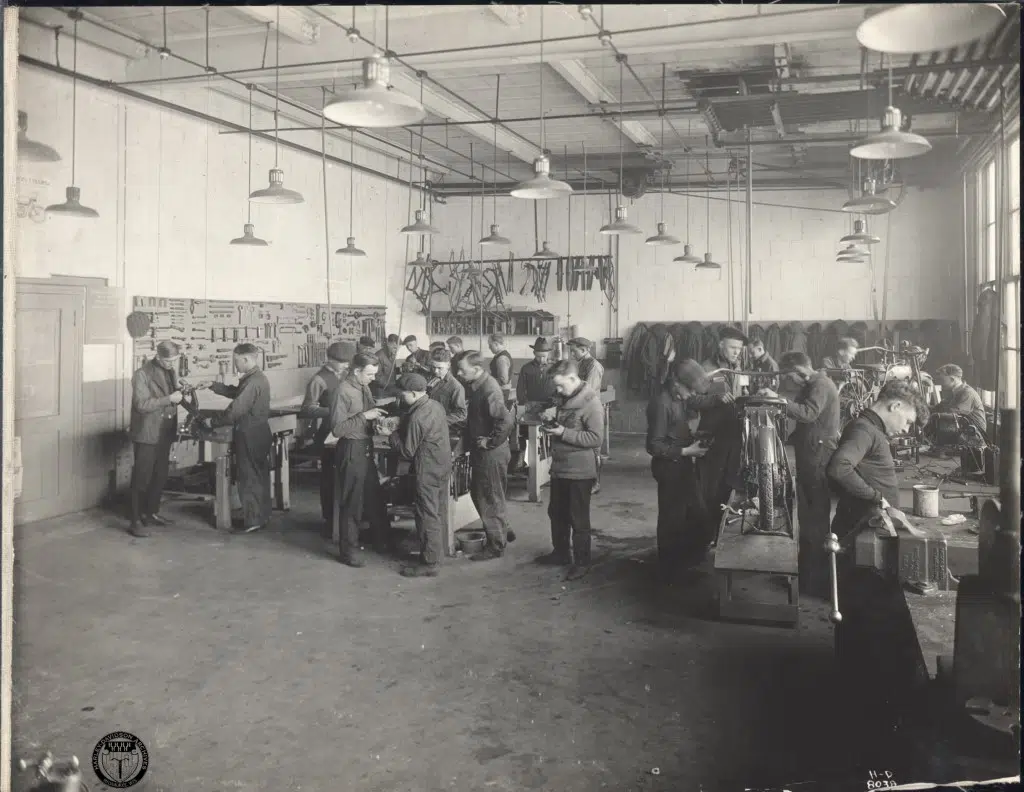 It didn't take long for the leadership at Juneau Avenue to realize how valuable the operation would be. After World War I ended, the name was changed to the Harley-Davidson Service School and enrollment was opened to any employee of authorized dealerships. Judging by the numerous and diverse student records in the Archives, the Service School was an instant success. Student evaluations were rigorous, including tallies of the student's total years of experience as a rider and repairman. A blank space even was placed on the form asking, "Was the student a troublemaker?"
Harley-Davidson: School's Errand
The school also evaluated students' managerial and sales skills. Classes were offered in what was known for a time as the "Sales School." Classes were also expanded to police riders and mechanics and municipal employees, who had to maintain fleets of Harley-Davidson commercial and service vehicles. Whatever new products Harley-Davidson would sell, classes would always be made available on those products. There was even a "Golf Car School" during the years Harley-Davidson sold golf cars.
During the World War II years, the focus of training shifted back to the military and the company revived the name "Quartermasters School." After the war, the general name "Service School" lasted into the late 1990s. That's when the MoCo consolidated the large training efforts into Harley-Davidson University. Over time, the facility trained dealers, technicians, employees and others in about every conceivable subject related to Harley-Davidson motorcycles. The School is also consulted from time to time on product development and engineering issues. HDU, as it is now informally called, continues into the modern day stronger than ever and ready to bring people up to speed on a host of topics. Who knows if the original instructors of 1917 knew that they were founding one of the company's longest running traditions?
Story by Bill Jackson, Harley-Davidson Senior Archivist.
Get more H-D motorcycle history at the o-fficial museum.