Harley-Davidson makes American Business History: The 1980s Tariff
In the 1980s, Harley-Davidson enacted a tariff to protect the company from overseas competitors. The historical significance of this series of events cannot be understated. It began in the late 1970s when overseas competitors increased a practice that was most commonly referred to as "dumping." Specifically, this meant that manufacturers were stockpiling large numbers of brand new motorcycles in storage in the United States. The intention was that the motorcycles would be released to the market at rock bottom prices, therefore automatically reducing the market share of the U.S. motorcycle industry by dramatic percentages and lowering the retail value of new and used motorcycles.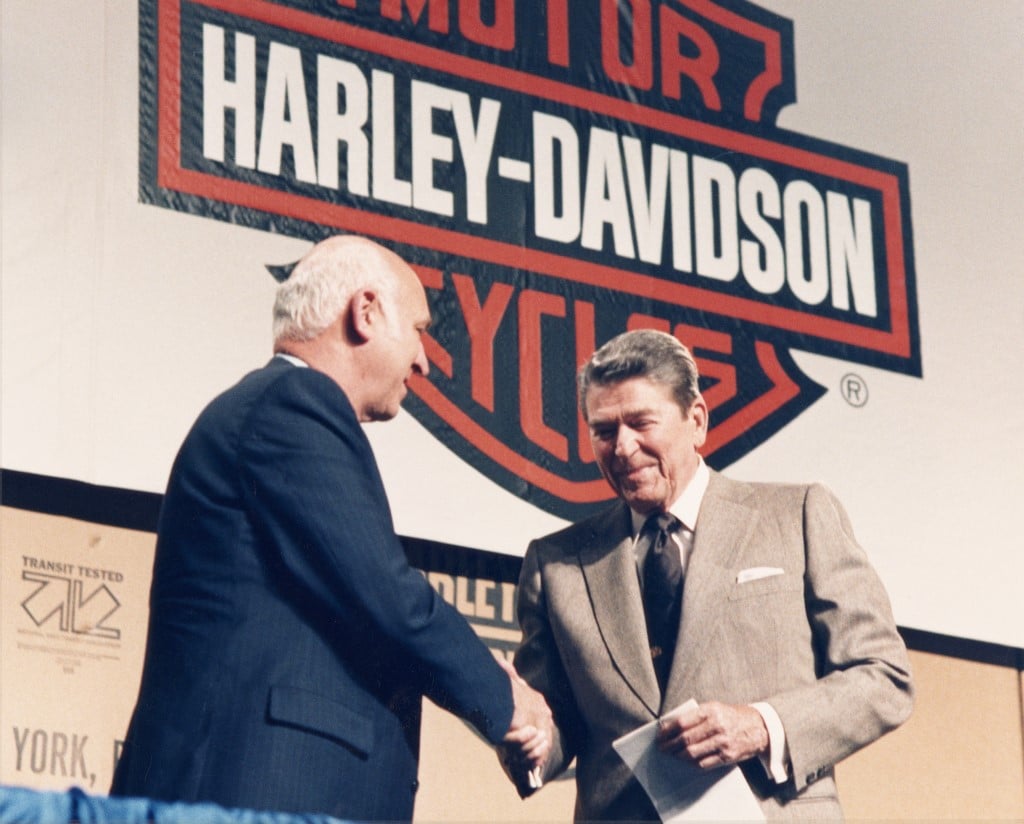 One is the Loneliest Number
At this time, the problem for Harley-Davidson was that the company was the American motorcycle industry. As such, Harley-Davidson would default to being the sole defender of the U.S. market. On Sept. 1, 1982, Harley-Davidson filed a petition for tariff relief with the International Trade Commission (ITC) under the 1974 Trade Act's section 201. From the origin of the Act to September 1982, 41 different American industries applied for tariff relief and only nine were granted it. However, after much deliberation by the ITC, the tariff was approved. On Apr. 1, 1983, President Ronald Reagan signed it into effect.
Originally, the tariff on incoming foreign motorcycles was 4.4 percent. The new five-year tariff sent that to 49.4 percent in the first year. The tariff would be reduced to 35, 20, 15 and 10 percent in each respective year. And since Harley-Davidson solely represented an entire U.S. industry and produced only heavyweight bikes, the tariff applied only to motorcycles with engines of 700ccs or larger. The tariff was granted on the understanding that Harley-Davidson would improve its quality and continuously improve the business to become strong again.
The Story Gets Better
The most incredible part of the story came in March 1987. With one-year remaining on the tariff, Harley-Davidson asked for the tariff to be lifted. This was the company's way of saying that it had regained enough of a foothold in the industry to face competition with no outside help. This also marked the only time before or since that any such request has ever been made of the International Trade Commission. This impressed U.S. government officials to such an extent that President Reagan visited the York factory in May of that year to help Harley-Davidson celebrate its new strength and independence. Once again, Harley-Davidson had proven that its survival instincts were intact. Learn more about H-D's history at the museum.
Story by Bill Jackson, Senior Harley-Davidson Archivist