Heavenly Dyna | Donald Hulse's Second Time Around
So you may notice that this Harley-Davidson Dyna has already been featured by V-Twin Visionary. It is the second official version of this bike. As a result, Mr. Holt thought that there should be an updated bike feature after all the current upgrades were on the bike.
The funny thing about this bike was it was suppose to remain stock! After having other bikes that seemed to always be in the shop for ideas I had or parts I wanted I told myself on this one I'm going to keep it the way it is, well…. It started with the paint my buddy Seth at Aggressive Designs. He said let's just do a little color change; the next thing I knew there was lace, panels, and massive air brushing.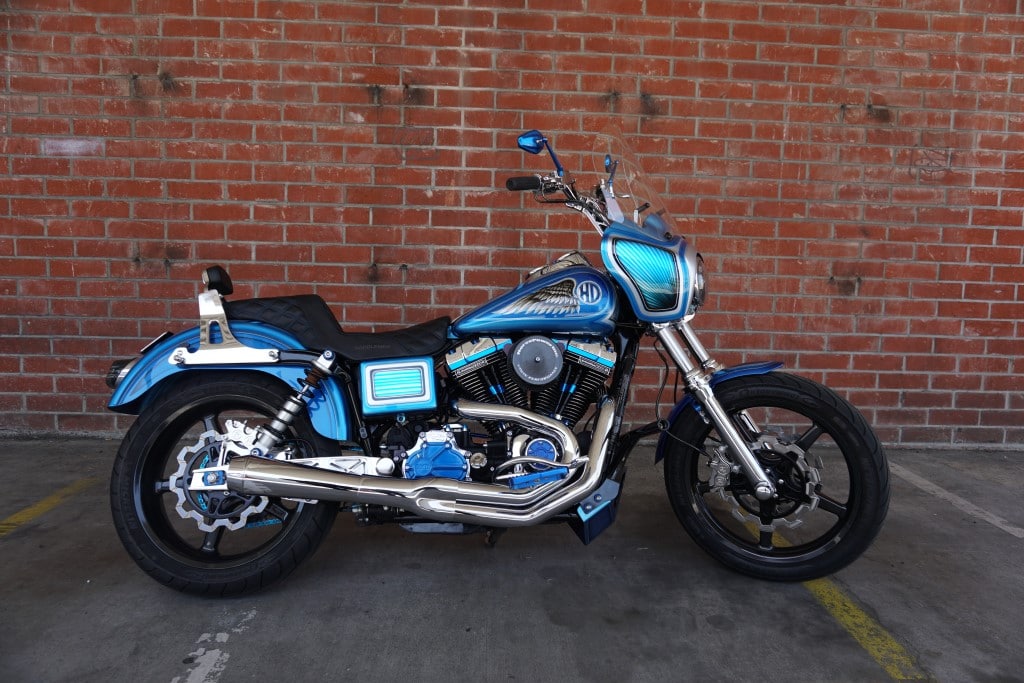 Next was the motor. It was getting to the point where the stock 103-inch with cams and a pipe just wasn't doing it for me anymore so Greg at Hyevon Choppers suggested lets just do a 110-inch kit. Next thing I know the motor was pulled, the crank was getting welded and balanced. Then the new heads were sent to the machine shop for some improvements and a bunch of Horsepower Inc boxes were showing up full of performance parts.
Wheel Dyna-mic
Boosted Brad by chance had some Brock's V-Twin BST wheels just laying around and I was able to make a deal to get them on the rebuild. Shortly after getting the carbon fiber wheels, I saw the new Dyna swingarm from Pop's Garage Fab and had to get one of these amazing pieces of CNC-machined art to really to finish the bike off.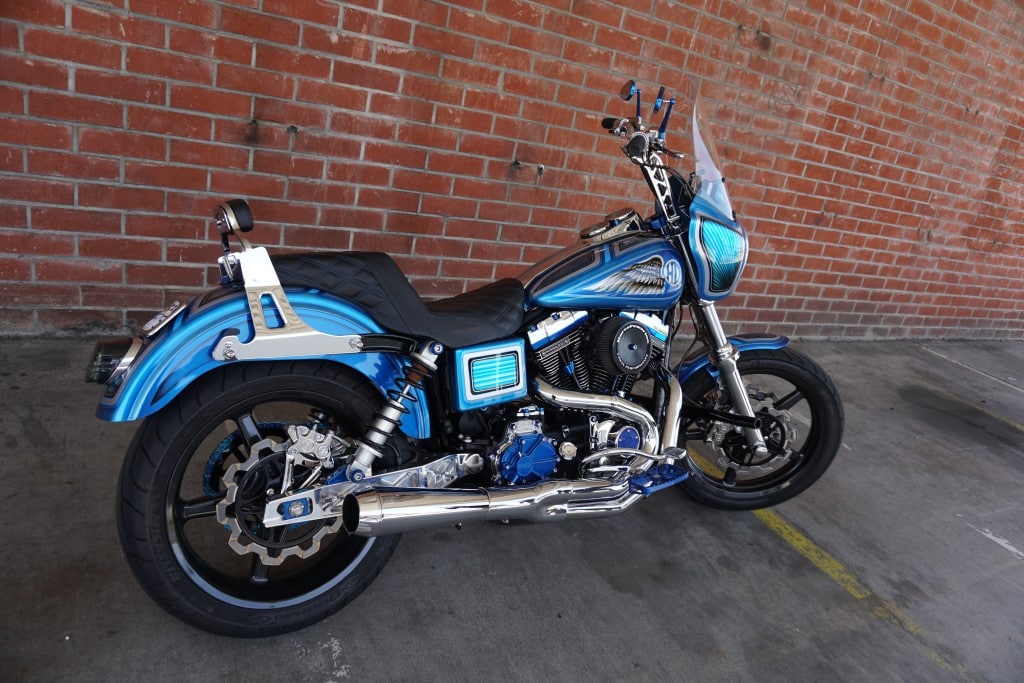 After a few break in rides on this new version of the bike, the stock tranny wasn't able to maintain the new power of the bike so, in short, it exploded. After some thinking I knew that a Baker Grudge box was going to have to be installed.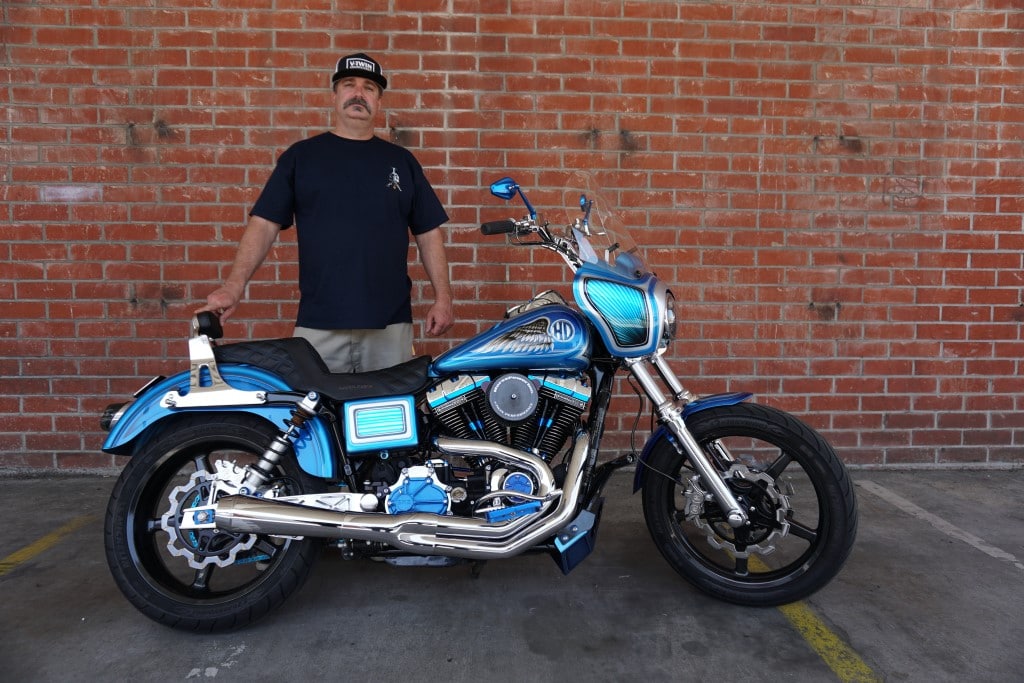 With the GP front suspension/GPR stabilizer combo in the front and the Legends Suspension shocks out bike this bike rides on rails now. All I can really say is I love this bike. And its more than just sexual…
SPEC SHEET
Owner- Donald Hulse
Shop- Hyevon Choppers
Shop Phone- (562) 907-3844
Website-www.hyevonchoppers.com
Year/Make/Model- 2014 Harley Davidson FXDL
Fabrication- Assorted friends/family
Build Time- Never Ending
ENGINE
Year-2014
Type-Twin Cam
Size- 110ci
Builder- Hyevon Choppers
Cases- H-D
Cylinders-S&S
Heads- Screamin' Eagle
Rocker Boxes- H-D
Cams- TTS
Throttle Body- Horsepower Inc.
Air Cleaner- Horsepower Inc.
EFI Controller- TTS Master Tune
Exhaust-Bassani
TRANSMISSION
Year- 2014
Type-Baker Grudge Box
Gears- 6
Clutch- Evolution
Primary Drive- H-D
FRAME
Year/Type- 2014 H-D Dyna
Rake/Stretch- Stock
SUSPENSION
Frontend
Make- H-D
Length- two inches over
Springs- GP Suspension Cartridges
Suspension Tuner- GP Suspension
Triple Trees- GPR
Rearend
Swingarm- Pops Garage Fabrication
Rear Shock- Legands Revo-A
Length-13"
ROLLING STOCK
Front Wheel
Builder/Size- Brock's BST 19"
Tire Brand/Size- Michelin Commander II
Brake Calipers- Performance Machine
Brake Rotors- Lyndall
Rear Wheel
Builder/Size- Brock's BST 18"
Tire Brand/Size- Michelin Commander II
Brake Caliper- Performance Machine
Brake Rotor- IMZZ Elite
Sprocket- IMZZ Elite
Chain- EK Chain
PAINT & PLATING
Painter- Aggressive Designs
Paint Manufacturer- Aggressive Designs
Colors Used- Blues and Silvers
Graphics- Aggressive Designs
Pinstriping- Aggressive Designs
Powdercoating- Reliable Powder Coating
ACCESSORIES
Front Fender- H-D
Rear Fender- H- D
Gas Tank- H-D
Dash- H-D
Gauges- H-D
Risers- Boosted Brad
Handlebars- Big Al's
Grips- Cult x Vans x ODI
Mirrors- Arlen Ness
Hand Controls- Performance Machine
Throttle Tube- San Diego Customs
Foot Controls- Boosted Brads
Floorboards- Boosted Brads
Pegs- Boosted Brads
Headlight- H-D Daymaker
Taillight- Moons MC
License Mount- Barely Legal
Crash Bar- Santoro Fabworx
Seat- Saddlemen
Sissy Bar- H-D
Sissy Bar Pad- H-D
Fairing- JD Customs
Written by Donald Hulse