Indian Motorcycle Racing & Jared Mees Win Sacramento Mile
It was another exciting weekend of American Flat Track (AFT) racing, as Indian Wrecking Crew Rider and Reigning SuperTwins Champion Jared Mees wins the Sacramento Mile aboard his Indian FTR750. The win marked Mees' third of the season, tying him for the most wins this season with Estenson Racing Yamaha rider Dallas Daniels.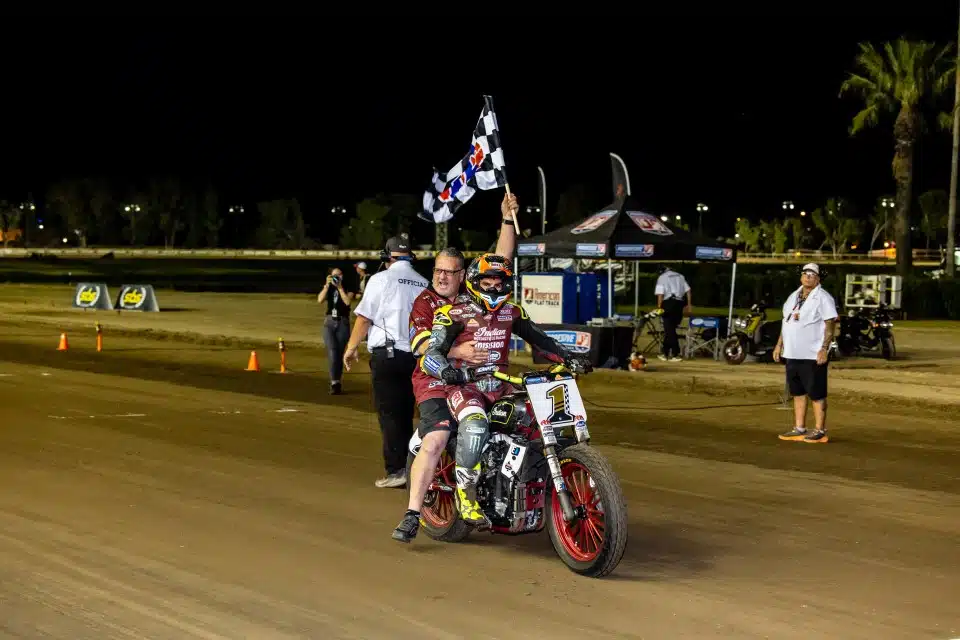 Starting from the pole position, Mees staved off the competition as he rode hard across the finish line to his 24th-career Mile victory, moving him up in the record books with the fifth most Mile wins of all time. In typical Mees fashion, Mees delivered a clutch performance, as he and Daniels are in the thick of a head-to-head battle for the 2023 SuperTwins Championship.
"I honestly was sweating coming into the Miles – last year I felt like we were a little down," Mees admitted. "I didn't know what to expect. But Kenny (Tolbert) worked really hard this winter to get us back some ponies, and Jimmy Wood really had that thing hooked up with the Öhlins suspension. I don't think I've ever been that hooked up before. I could just go into the corner and mash the throttle. The Indian Motorcycle was phenomenal tonight."
With 139 points on the year, Mees sits securely in second – 24 points ahead of third (115) and 20 points behind Daniels (159). In addition to his three wins, Mees has secured a third-place podium finish, two fourth-place finishes and a P6. Meanwhile, Daniels has raced to a top-two finish in all seven races this season.
The AFT season continues with two more Mile races, the Red Mile presented by Indian Motorcycle of Lexington on May 27, and the DuQuoin Mile on June 17.
For more information on Indian Motorcycle Racing, visit the company website and follow along on Facebook, Twitter and Instagram.