Legend Suspension's New AXEO Comfort
Legend Suspensions has remained committed for over 20 years to manufacturing only the highest quality, best performing suspensions available on the market. We use pristine, quality materials and components manufactured right here in the United States. Tried, tested, and proven by the best, our suspensions will give you the look and feel that you deserve.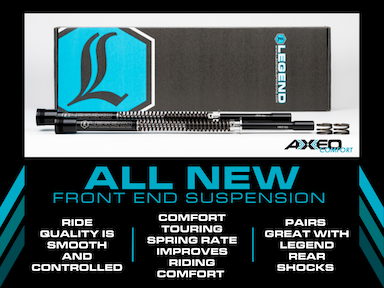 Introducing Legend Suspension's New AXEO Comfort cartridges for FL touring models. Legend's comfort touring spring rate provides improved small bump compliance, superior ride quality, as well as increased resistance to bottoming for all day comfort. Utilizing the same threaded preload adjuster from our high-performance line, the new comfort series has an increased preload range for various rider weights. This wide range provides superior ride quality that is smooth and controlled with improved stability, cornering, and traction. The AXEO comfort cartridges feature a reduction in front-end dive and minimizes dragging of floor boards during aggressive braking and maneuvering. Proudly made in the USA in Sturgis, South Dakota and backed by a lifetime warranty. Anything else is a compromise.
AXEO Comfort for FL Touring models is available only in standard length to maintain factory ride height.
For more info Click Here