Place: Covina CA   

Handle: @one_wheel_drew  

URL: diamondlanelife.com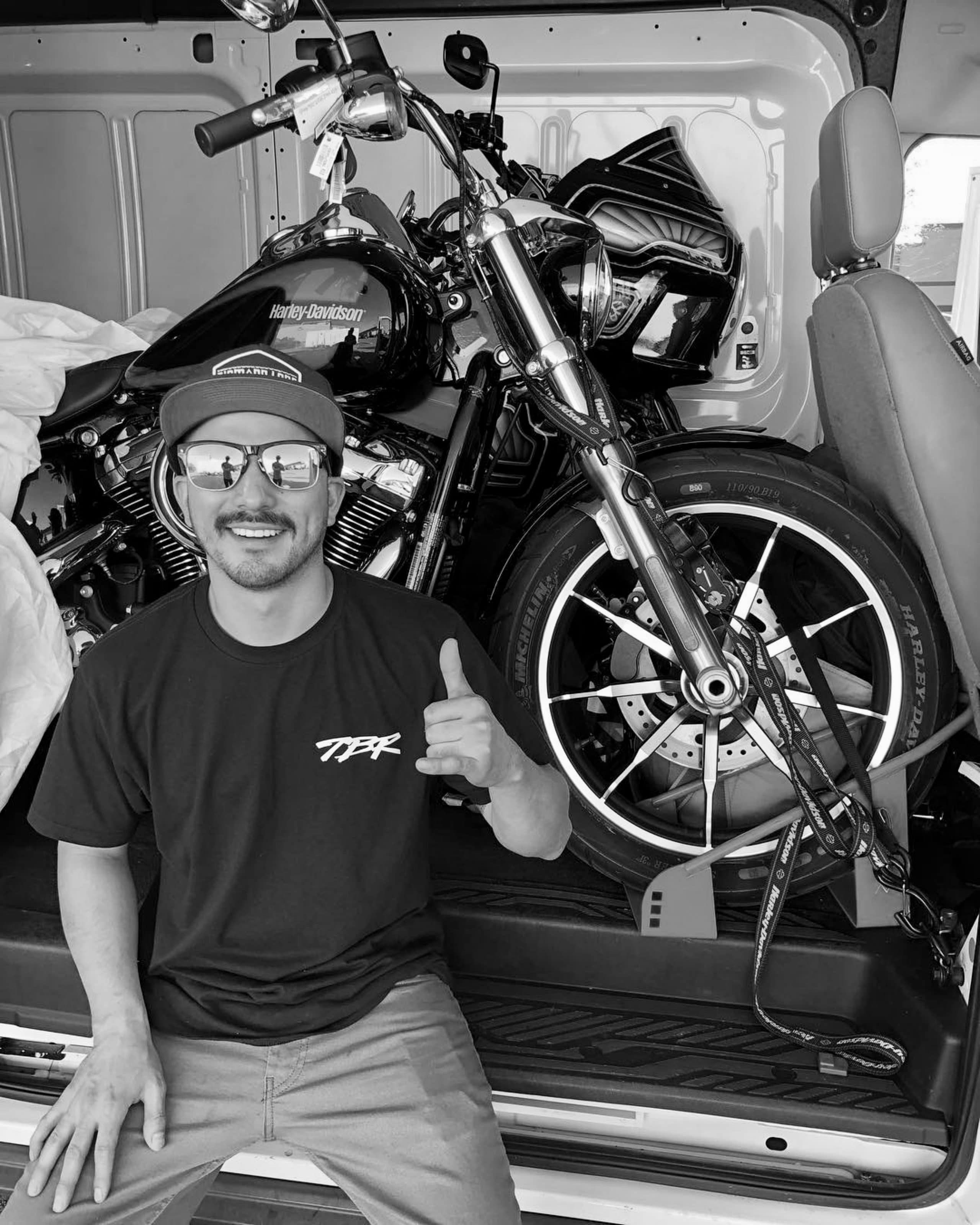 What do you do for money?
I have been blessed with a opportunity to work at Espinoza's Leather and a couple other side hustles.
How did you get into motorcycles?
My earliest memories of a motorcycle was my uncles (Danny Molina) 49 H-D Panhead I drooled over that thing before I even knew what it was. But I'll never forget the day my dad came home with my first dirt bike I never felt a better high then that moment I took everything in from the smell of the gas to the rubber of the tires I was obsessed after that moment.
What was your first motorcycle?
Honda XR70,  I was about 7. It was a pretty big thing at the time for me because I only had toy motorcycles and never thought I would have one of my own. My dad came home with two bikes one day and it kinda pissed my mom off and would make my grandma so nervous that she would smoke a cigarette faster then should could light them.
 What do you currently ride?
I guess there is a tool for every job As they say . I have a 1990 H-D FXR-S convertible. a 1992 H-D FXR-S convertible, a 2003 H-D FXD, a 2014 H-D Dyna Street Bob, a 1200S Sportster flat track bike,  a 2005 H-D Police Road King, and a new 2018 Softail. Between building, buying, and selling I'm always hopping on different bikes.
What is your all-time favorite motorcycle?
My 1992 H-D FXR-S I think I like this bike mostly because it's completely stock and could always rely on to get me where I need to go. Plus it handles really well.
 What attracted you to motorcycles?
I think just the overall mechanics of its insane from a non riding standpoint but the endless boundaries and freedom rule all.
 What do you like about riding motorcycles?
The alone time, freedom and the fresh air. It's almost like a fever and having a restless urge to jump on a bike. Riding at night is probably my favorite time  to enjoy all those elements.
 How have motorcycles changed your life?
Well I can say that motorcycles have saved my life. Getting into the adult life riding was a rare occasion working two plus jobs then 2013 I lost my father. I think another let down is none of my friends showed up to his funeral. I found myself heavily drinking  and constantly paying the justice system because of unreleased anger built inside. My uncle Danny helped me get on my first harley then I  began to put all my time and focus on two wheels again.
 Who or what have you gained inspiration from?
I really have too many to name that if I didn't say them all I feel like I'm not giving the proper respect.
 What has changed your life for the better?
Motorcycles, eating better, and having a new outlook on life.
 What has changed your life for the worse?
Losing my father is still the worse thing I have experienced and will never overcome. The closest thing I can get to him is being on my bike on a big open road with the wind in my face.  
 Any other statements or slander you would like the world to know?
Thank you for your time and the opportunity to do this for V-Twin Visionary!