Place: Cedar Rapids, Iowa  

Handle: @mckeagart  

URL: mckeagart.com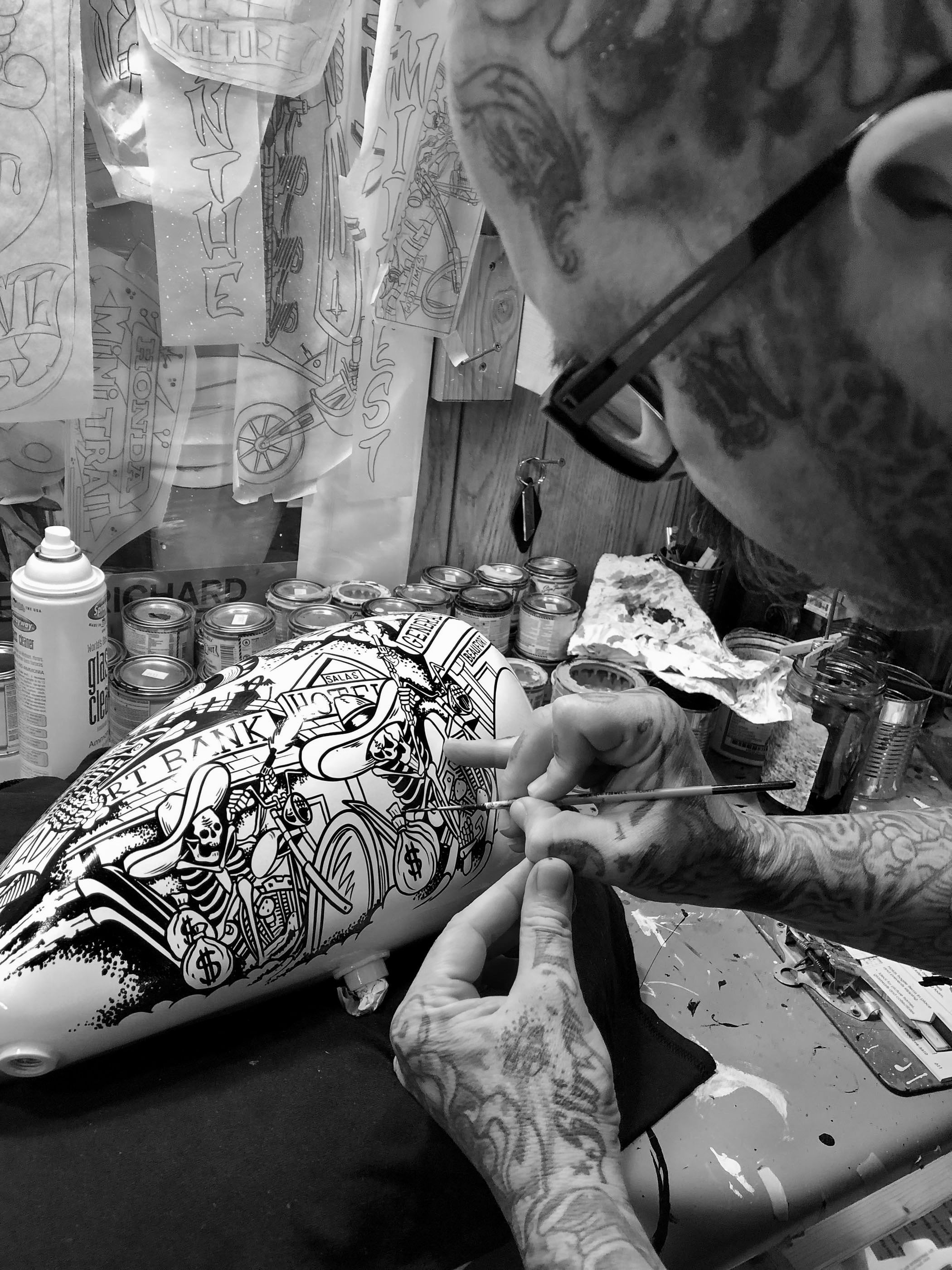 What do you do for money?
I tattoo, paint motorbikes, helmets, pintstripe and illustrate…
How did you get into motorcycles?
I grew up on my Dad's motorbikes and around motorbikes, they've been a part of my entire life. 
What was your first motorcycle?
My first motorbike was a Yamaha 650 street bike. The front forks were a bit longer, so it made the bike sit up and back a bit with a king/queen seat. This was around 1988.
What do you currently ride?
Today, I ride mostly Harley motorbikes. I have a twin cam chopper, a 93" HD shovel chopper, a 1967 stock Harley that I share with my Dad. I also have a Buell 900 flat track motorbike from Bareknuckle Choppers. I also have a 1975 Yamaha DT 25o that I rip around on, it's a lot of fun. 
What is your all-time favorite motorcycle?
My all time favorite motorbike, is the 1965 Harley panhead that I grew up on. In the 70's, when I was little, I would sit in front of my Dad, just on the beginning of the tanks…man, those were the days. My Dad then picked up a stock sidecar for the bike and I spent a few years in that…good times… This bike is my favorite, because I have so many memories of it…sadly, it's not in the family anymore, however the memories are.
What attracted you to motorcycles?
I don't know that I was ever attracted to motorbikes early on. It's simply the fact that I grew up on them and around them. I figured, this is how life is suppose to be. Today, yes I am attracted to motorbikes, as I truly understand the feelings I get, when I see a motorbike I really like…a true attraction, the thought of taking that motorbike for a ride. That's a good feeling.
What do you like about riding motorcycles?
I really enjoy the sound of a motorbike when I'm riding it. I really enjoy my body on the wind and I really enjoy being on the roads and seeing the country, while exposed to the outdoors. It's a feeling you can't really explain or put into words, it's something you only understand, if you've experienced it.
How have motorcycles changed your life?
Motorbikes have always been a part of my life, so that has never really changed. Growing older with motorbikes, has been an ever changing evolution in my life. Experiencing new journeys, adventures and people every year, on motorbikes, has shaped my life, who I am and what I do. 
Who or what have you gained inspiration from?
I have gained inspiration in my life, from my wife Missy and from sobriety. Those two elements combined, have truly made me who I am right now. I really feel as though I am the best person I have ever been, at this very moment and with neither Missy or sobriety going anywhere, I feel as though life is going to be better tomorrow, then it was today and today was good.
What has changed your life for the better?
Sobriety has changed my life for the better. My wife (being a who, not a what) has changed my life for the better. There aren't enough words in the dictionary, to define the sum of what these two, combined, have done for me.
What has changed your life for the worse?
There is nothing that has changed my life for the worse. Everything that has happened to me, was supposed to happen. There have been many times, I've been dealt some tough cards, but looking back, it was for a reason. 
Any other statements or slander you would like the world to know?
The only other statement I want the world to know, is that I don't sleep much, due to the coffee and espresso I drink and the fact that my brain is overwhelmed with a lifetime supply of ideas, that are constantly trying to get out.