QUESTIONED: Victor Hansen
Name: Victor Hansen  

Place: Modesto Ca 

Handle: @mod_glide07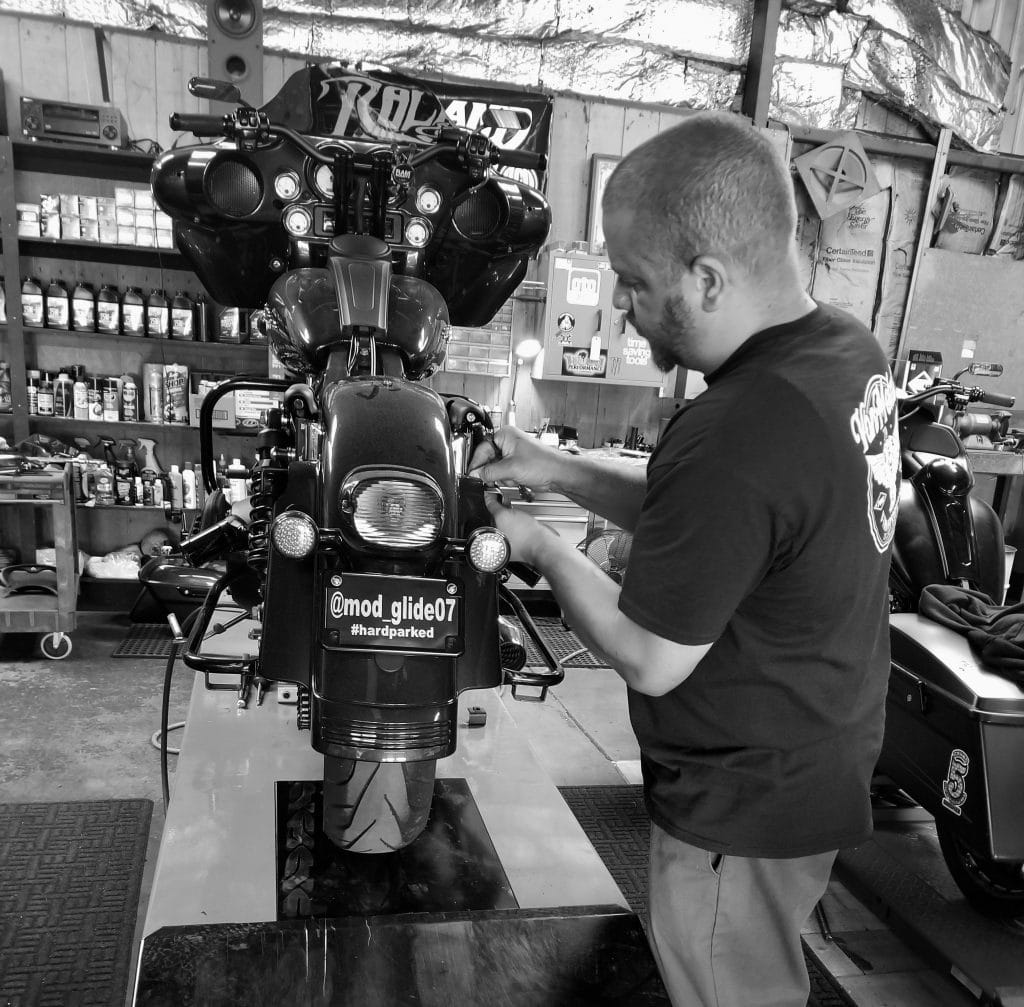 What do you do for money?
Operations Manager at Motodemic
How did you get into motorcycles?
I've always had a thing for motorcycles. I never really dove into motorcycles until I picked up my current bike (2007 Street Glide) from a friend's dad in June of 2016.
What was your first motorcycle?
Some 1970's dirt bike we got from my dad's friend as a kid.
What do you currently ride?
2007 Street Glide
What is your all-time favorite motorcycle?
Honda RC51
What attracted you to motorcycles?
The speed and the style. There are infinite possibilities when it comes to modifying motorcycles. I'm not the type to leave things stock for too long
What do you like about riding motorcycles?
"It's just lawlessness. Nasty ass speed, metal grinding, teeth hitting the pavement. It's just fucking speed!" – Von Metal
How have motorcycles changed your life?
Meeting a lot of cool new people that share the same passion for them that I do. They also sparked a career change from the automotive industry to the motorcycle industry. 
Who or what have you gained inspiration from?
I'm inspired by people that I see fulfilling their passion doing the things that they love to do for a living.
What has changed your life for the better?
Finding motorcycles as an outlet since losing my dad. If it wasn't for motorcycles I wouldn't have met all my new bike life family. Travelling to events and meetin so man rad people. I also wouldn't have changed career paths and be in the position I am in now
What has changed your life for the worse?
Losing my dad to cancer in 2015.
Any other statements or slander you would like the world to know?
Tomorrow is not promised so live for today. Be the best version of yourself every day. Don't be a bitch, no one likes a bitch!
Just want to give thanks to my wife Ivy for always being by my side and letting me be me. My mom for not aborting me. Thanks mom!
My buddies Casey (@mischievous_penguins) and Joseph (jsteezy64) for taking killer photos. Nick B (@nicadocius22) and Daniel O (@ujonezn) for their help and advice. Brad (@motodemic), Sean (@progressivesuspension), Jay (@fab28), Justin (@vonmetalvtwin), Satya (@krausmoto), Brian (@klockwerks), Earl (@ultracool), Brett (@bellpowersports) and last but not least Jeff G Holt (@jeffgholt and  @vtwinvisionary) for allowing me to do this interview.