Shop Crawl: Barnstorm Cycles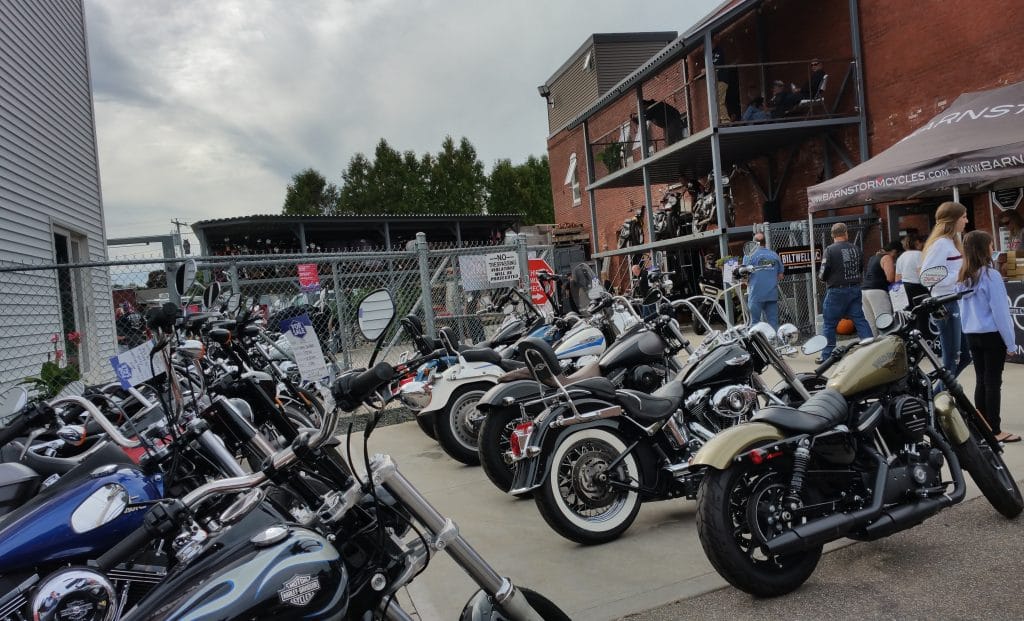 VTV' s man on the street, Sandy Roca, checks out Barnstorm Cycles. 
Up here in my neck of the woods there's a long legacy of productivity and manufacturing. It all started back in the 1800s, and even now there are tons of old mill buildings scattered throughout the New England countryside. And because the structures were literally built like a brick bleep house many of them have been refurbished and repurposed. Old Mills have been converted into condos into malls, condos,  retail shops and much more.
One of the more interesting rehabs we stumbled across recently is Barnstorm Cycles in Spencer Massachusetts. Barnstorm has actually turned the trick twice. As a result of their lifelong passion for motorcycles, father and son team Doug and Jake Cutler opened up shop in November in 2004, commandeering an old carriage house they called the "Barn."
It seems pretty certain that the productivity legacy has been carried on by Barnstorm. Because, by 2011 they had way outgrown their original facilities and moved into a renovated, 10,000 square foot mill building originally built in 1840.
The best way I can describe Barnstorm is that it is a bee hive of activity. They've got a very talented and diverse team of employees, that deliver motorcycle service, parts, and accessory needs in-house. You can add to that a professional detailing department, machine tool facility, custom fabrication shop, and great paint and powder coating services.
They handle everything from basic tune-ups, tires, and inspections, to custom exhausts, all the way up to full-on engine rebuilds and chassis upgrades. They have also developed relationships with all the major parts distributors as well as many small, independent shops and vendors for specialty and vintage parts. This means Barnstorm customers get really superior  service, knowledge, experience, and products.
Want to ride, not wrench? Barnstorm has a large inventories of motorcycles for sale including ranging from late model rides to antiques to full-blown customs. That's right, Barnstorm does antique rebuilds and  custom builds, too. And the results are real showstoppers! A good example is a recent built from scratch custom knucklehead. It's a beautifully crafted combination of the old and the new. A classic Santee rigid frame chassis with girder front end was adapted to a potent 93 cube S&S K93 engine and a boatload custom precision machined stainless goodies .The handlebars, sissy bar, and "bird shooter" style exhaust pipes were all designed and hand fabricated from stainless steel, while the oil tank was shaped from aluminum. Custom-made electronics were crafted to look like the original generator system.
A word about Barnstorm's ambience. They truly enjoy helping people realize their motorcycle dreams in a friendly, low-pressure environment. Bikes of all years and makes are welcome. But don't take my word for it. Cruise over in person or check their website , https://www.barnstormcycles.com
I'd say  the legacy of the New England mills is alive and well at Barnstorm Cycles. They have created a friendly storm in their barn —  and all of motorcycling is the better for it.