The Dynasore Part 2 | Kevin Galerud's Rehabbed Dyna
Kevin Galgerud (aka @dyna_sore aka Kevin the Handyman) has been a devotee to the Harley-Davidson lifestyle for a few years now. He rides the hell out of this customized 2001 Twin Cam-powered Dyna Super Glide Sport FXDX you see here, almost every day. However, with the law of averages, the more you ride your machine the susceptible you and the bike become to damage. In Kevin's words "The bike was just as I wanted it, and everything was running good on it, until the car and I met." Luckily when Kevin and the Audi met, the bike took the brunt of it and Kevin pretty much walked (ok, limped) away for the wreck.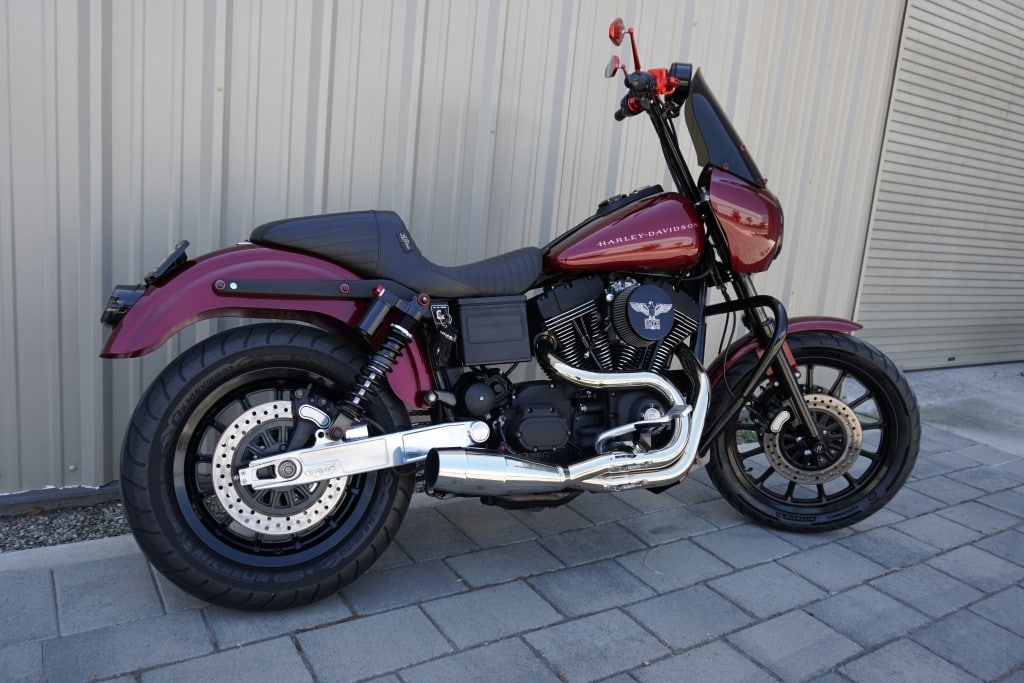 With his pride and joy majorly jacked up, Kevin contacted Jim Iiams at IMZZ Elite in Orange, California for some rehab. IMZZ is a one-stop shop with paint, fabrication, tech, and a USA-made parts line all under one roof. Moreover, Jim is also no stranger to insurance jobs and fixing wrecked bikes. He got busy and in two months the bike was back on the road. As a result, it's much better than new.
Jim threw the whole IMZZ Elite product line at Kevin's bike including a chain kit, handlebars with custom internal gauge wiring, crash bar, brake rotors, sprocket, license mount, T-Sport fairing, and Big Dick polished stainless steel exhaust.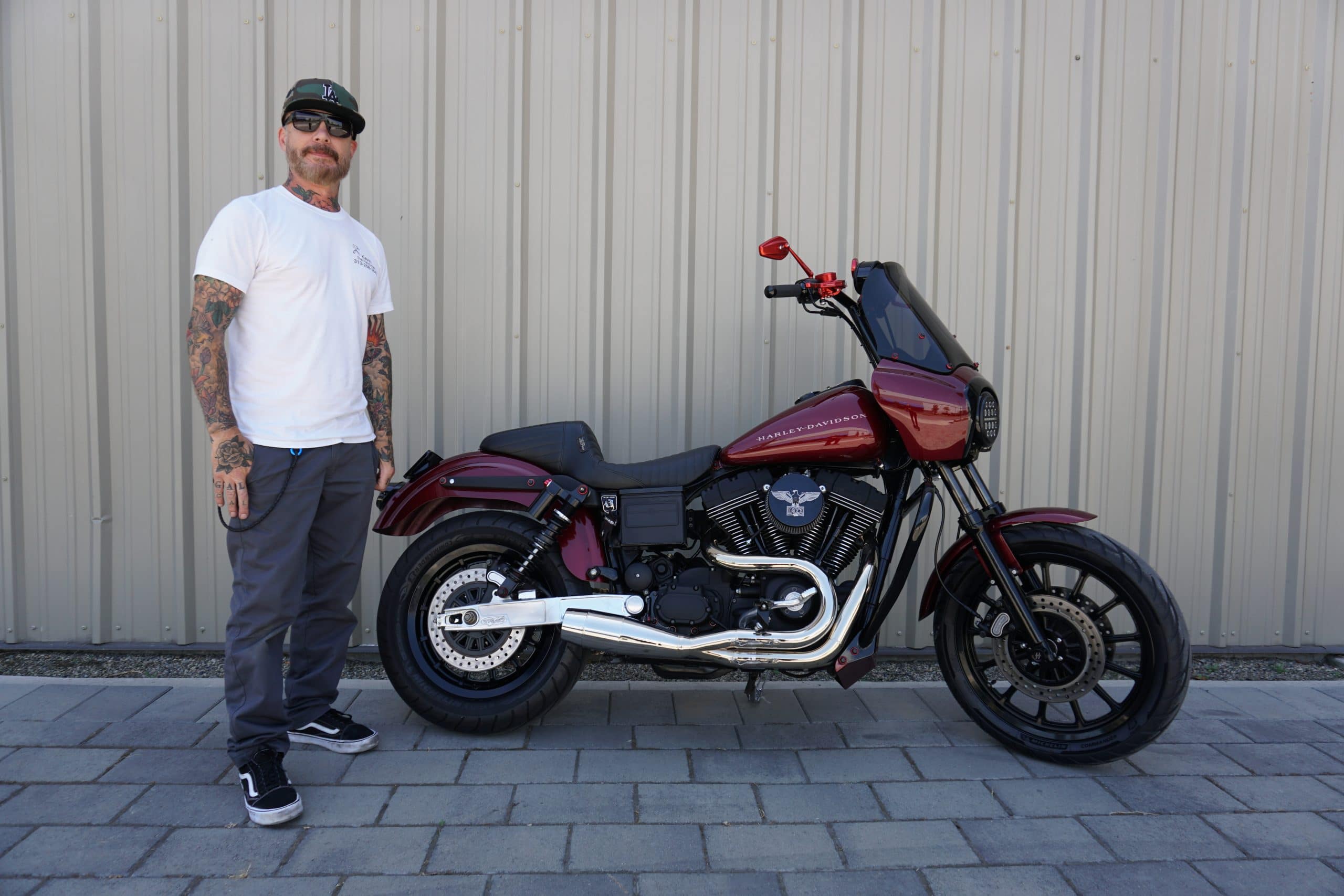 IMZZ handled the bodywork and painted the Dyna the original H-D Luxury Rich Red Pearl color as well. Jim also personally built Kevin a fire-breathing 107ci filled with a magic mix of custom spec-ed CP pistons, Fueling Race Series parts, a Mikuni carburetor, Branch heads, as well as S&S performance parts and engine components.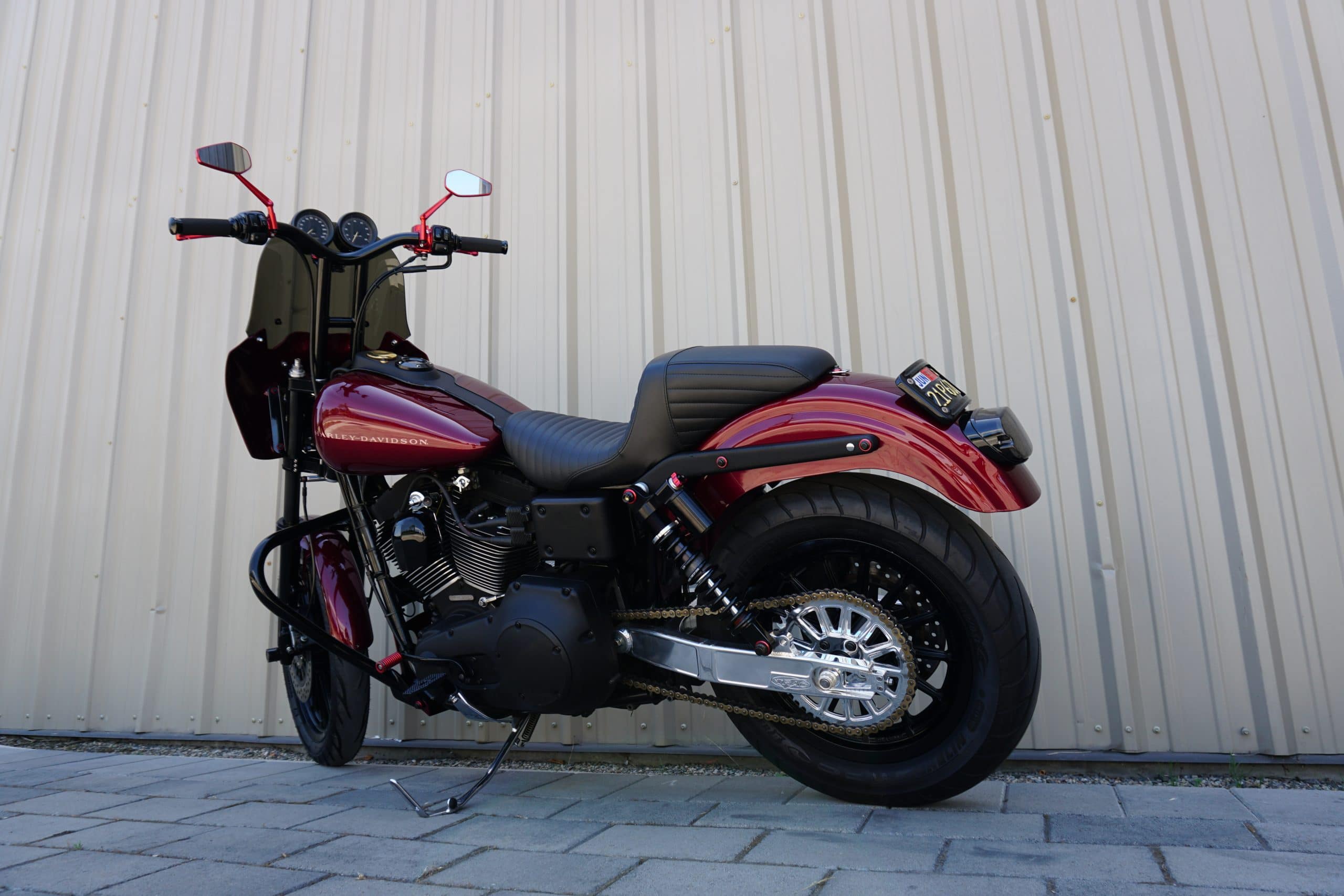 Thanks to the IMZZ crew, our man Kevin is now back on the road and carving the canyons in and around Los Angeles. Though his main order of business while riding now is trying to stay away from teenage automobile drivers at all costs.
SPEC SHEET
GENERAL
Owner- Kevin Galgerud
Shop- IMZZ Elite
Website-imzzelite.com
Year/Make/Model- 01/H-D/Super Glide Sport
Fabrication- IMZZ Elite
Build Time- 2 months
ENGINE
Year- 2001
Type- Twincam
Size- 107ci
Builder- IMZZ Elite
Cases- Harley-Davidson
Cylinders- Harley Davidson
Heads- Branch Okeefe
Rocker Boxes- JIMS USA
Cams- Feuling
Carburetor- Mikuni
Air Cleaner- Arlen Ness Big Sucker
Exhaust- IMZZ Elite
TRANSMISSION
Year- 2001
Type- 5-speed
Gears- OEM
Clutch- Barnett
Primary Drive- OEM
FRAME
Year/Type- 2001/Dyna
Rake/Stretch- N/A
SUSPENSION
Frontend
Make- H-D
Length- 14 inch
Springs- Race tech
Suspension Tuner- N/A
Triple Trees- Pro One Performance
Rearend
Swingarm- Trac Dynamics
Rear Shock- RWD
Length- 14 inch
ROLLING STOCK
Front Wheel
Builder/Size- H-D 19 inch/13 spoke
Tire Brand/Size- Michelin/Commander II/19-inch
Brake Calipers- H-D
Brake Rotors -IMZZ Elite
Rear Wheel
Builder/Size- H-D 16 inch/13 spoke
Tire Brand/Size- Michelin Commander II/16 inch
Brake Caliper- H-D
Brake Rotor- IMZZ Elite
Sprocket- IMZZ Elite
Belt/Chain- IMZZ Elite Chain Kit
PAINT & PLATING
Painter- IMZZ Elite
Paint Manufacturer- HOK
Colors Used- Luxury Rich Red Pearl
Polishing-IMZZ Elite
Powdercoating- IMZZ Elite
ACCESSORIES
Front Fender- H-D
Rear Fender- H-D
Gas Tank-H-D
Dash- H-D
Gauges- H-D
Handlebars- IMZZ Elite
Grips- Avon
Mirrors- Arlen Ness
Hand Controls- Rubuffini
Throttle Tube- IMZZ Elite
Foot Controls- H-D
Pegs- Shred Motto Co.
Headlight- Moon's
Taillight- Moon's
License Mount- IMZZ Elite
Crash Bar- IMZZ Elite
Seat- LePera
Fairing- IMZZ Elite