Tobacco Motorwear Co – Kevlar lined Skinny Riding Jeans for Women
By Savannah Rose
Finding women's jeans is sometimes enough to make you cry. Now, try finding motorcycle safety gear that fits properly? It's enough to cause a total breakdown!
For years, "pink it and shrink it" has been an unspoken motto in the motorcycle gear world. Ok, they'll never ADMIT that, but finding motorcycle appropriate clothing left women struggling to find something that isn't a sized down version of men's gear, or non-safety gear that's been smattered in swirly logos and sparkles.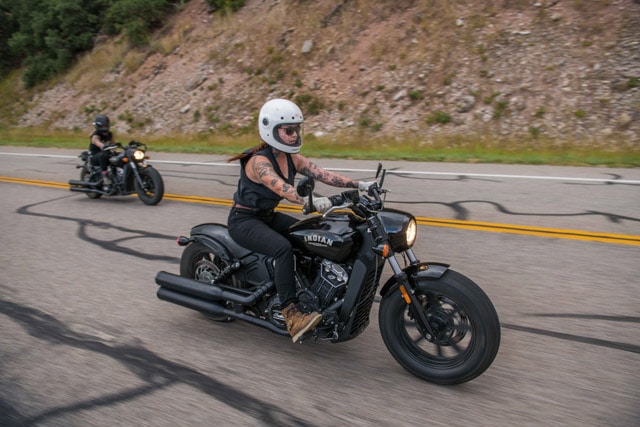 I'm having NONE of that. I attend an insane number of moto rallies each year, I ride long distances on both my chopper and various loaner motorcycles. I want to be comfortable, safe, AND cute. But not sparkly.
(sidebar – there is nothing wrong with sparkles, but it is absolutely not my clothing style!)
So in my searches I came across Tobacco Motorwear – and thought to myself "dang, those are some good lookin' jeans!"
But everyone knows, jeans may look good online, but would they look good when you put them on? It's truly a roll of the dice. And with the massive variances in women's body sizes and shapes, it is rare to find a brand that fits different types well.
So I headed to a women's moto market, California Moto Market. The gal who runs it, Cait, told me I would love the Tobaccos. So I grabbed a pair – labeled size 25, although I am generally a 26-27. Cait suggested sizing down in these jeans, since you will be wearing them sometimes for days at a time, if you're on a road trip, to maintain the "skinny jean" feel. If you're more into a relaxed fit, you can stick with your size or hop up one size.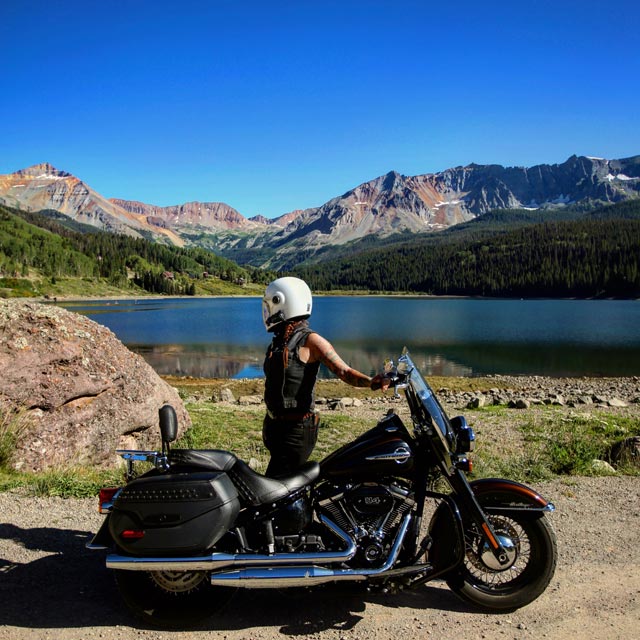 A couple friends of mine were there too, and we are surely a variety of sizes. I'm more along the small-medium sizing, and my friends ranged up the scale. As we tried them on.. I was shocked. EVERY ONE OF US LOOKED FABULOUS.
The Tobaccos are a 2% stretch Selvedge denim, in indigo or black. I chose black, and through the few thousand miles I have put them through, they are still jet black!
These are also Kevlar lined – so in the important impact zones (the front, down past the knee, the hips, and the butt) you have an extra layer of heavy duty protection. In fact, if you've seen their ad, it features a woman dragged by a tow rope behind a motorcycle on her rear, and she stands up to show the Kevlar fully protects all of her.. assets.
Kevlar is heat resistant, puncture resistant, and abrasion resistant.
The fit on these is in typical fashion – high waist, which will ultimately help in protection in an accident, as you want the coverage high on your hips. The legs are slightly tapered for a skinny fit, but not ankle-strangling leggings style.
They fit well tucked into boots, or have a bit of space where you can wear them outside a pair of shorter boots. The Kevlar doesn't reach the ankles, so you can roll them a bit if needed.
And the feel? Well, I feel great wearing them. Not only do they fit quite well, they don't scream "MOTORCYCLE PANTS!!" so if you head into your office job, a restaurant, or your mother'Oths birthday party, you don't feel out of place. And you're guaranteed to get compliments on them, I have found myself discussing them with fellow female riders every time I wear them.
Even after 3500+ miles, on various types of bikes, through hot sun, rain, fog, and mud, they are holding up quite well. I don't see any issues in stitching or wear spots. I can't say the same about my daily jeans, that's for sure. And that includes leaning my leg on a very hot exhaust pipe!
As far as sizing, they run from 24-40, or 0-18 in US sizes, fitting a wide variety of women. Whether you've got a bit of junk in the trunk or you're quite slim, everyone I have seen in these jeans rocks them very well.
The downsides to these jeans?
They fit better than any other pair I own and I find myself wanting to wear them constantly..
They are a little on the warm side, being a premium denim and having the Kevlar lining. But they were never so bad that I considered changing. And they are definitely less warm than wearing leather chaps in the summer!
Now, like any good gear they are an investment. At $339 a pair, they are on the mid to higher price range of riding jeans. But, these are made in the USA, and as we all know, you get what you pay for.
Tobacco also offers a full range of men's gear, and just released a women's riding shirt as well, The Riveter – which is next on my list to try!
These are hands down, my favorite pair of pants, and definitely one of the most crucial safety items in my moto-gear closet! Head over to the Tobacco Motorwear website and find out more.