Vtwin Visionary Performance Show Profile | Letric Lighting
Letric Lighting brings two decades of experience to the motorcycle lighting table. They've dedicated their attention to high quality lighting and wiring kits for Harley-Davidson, Indian, and full custom V-twins. Letric is also a proud sponsor of the Vtwin Visionary Performance Motorcycle Shows. And we're proud to have them.
Among Letric Lighting's offerings you'll find a range of LED motorcycle lights to brighten your day. For starters, the Premium Slantback Taillights upgrade style and bring a brighter appearance to the rear of any 1999 and later H-D model with a center taillight. And it's all in a plug-n-play package.
The "Premium" Slantback Taillights are Letric's brightest Slantback option, packing four rows of four SMD (Surface Mount Diodes). As a result, they produce an ultra-bright Red Running and Brake light. Visibility is the Premium Slantback's priority. Naturally, the Premium Slantback comes with Letric Lighting's lifetime warranty.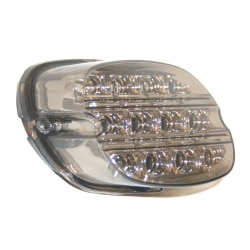 For those searching for a more traditional look, Letric Lighting Co. produces a variety of Squareback LED Taillights for more visibility out back. So you'll see the full line of LED motorcycle lighting at the NAMZ Custom Cycle Products site today.