Zipper's Sleeper 124 Kit for 2017+ Milwaukee-Eight
Few things in life are more satisfying than the element of surprise, whether it's slow playing a poker hand or unleashing a sleeper at the drag strip. That's why there's the Zipper's Sleeper 124 Kit. This powerful parts pacakage transforms your 3.937-inch bore 107-inch M8-powered machine to 4.125-inch bore and 124 cubes with a drop-on piston and cylinder kit. It's all internal, leaving the competition and the po-po none the wiser. That is, until you pin the throttle and let the beast off the chain.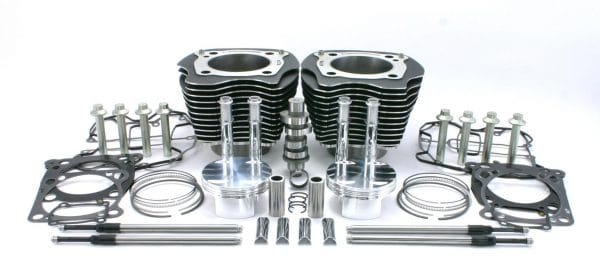 The new cylinders are treated to the best precision boring and honing process you can find. Zipper's technicians precisely measure each piston to provide skilled, old-fashioned sizing processes to the cylinders. Mounted in special torque plates, a CNC-hone is used to create a straight and true finish. That's topped off with brush-finish technology that requires minimal run time for ring seating while providing best power. Choose the Red Shift cam (468 for Tire-Shredding Early Torque or the 472 for a Sophisticated Balanced Power setup) that best matches your riding style. Zipper's packages it up with a new full complement cam bearing, top end-cam chest gasket set, and Quickee pushrods and covers to simplify reassembly. Pick up one of these stealthy big bore kits from Zipper's here.
In compliance with ARB emissions laws, this product is not sold or shipped to California.