EXFIL-48 Backpack | Biltwell Inc
Designed by motorcycle riders for motorcycle riders, the EXFIL-48 backpack features compression straps that do double duty as mounting straps. Fasten your backpack to the sissy bar to give your shoulders a break. Plus, it packs storage capacity to gobble up 48 12-ounce cans of your favorite beer.
Biltwell invested hours of R&D on the EXFIL-48 backpack and its brethren. They wanted their first backpack to be the last one you ever need. One main and two secondary compartments hold two cases of cold beer to get the party started if that's your mission. Moreover the lower secondary zipper compartment packs a PVC-treated tool caddy. Additionally, an internal zipper pouch holds wrenches and small gear securely.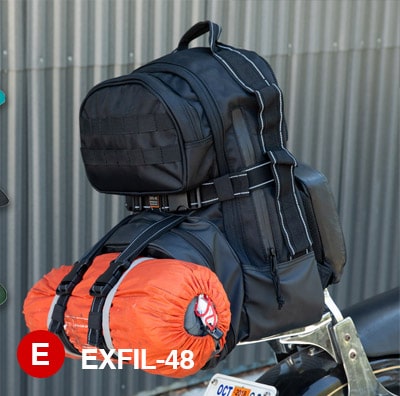 The top secondary compartment houses an internal zipper pouch too. Plus, all three compartments have hi-vis orange nylon lining, making spotting contents easy. The padded shoulder straps feature an adjustable sternum strap to stabilize heavy loads in addition. Cinch straps around EXFIL-48's perimeter compress loads for greater stability. They also fasten the bag to your sissy bar when it's time to hit the highway. Get the full details on the motorcycle luggage here.