Harley History: Racing the Boardtrack
A topic the Harley-Davidson Archives frequently receives questions about is the "Motordrome" racetracks of the early 20th century. Or, as many call it today, boardtrack racing. It is not certain the exact date and place that the sport began, but boardtracks were being built by 1908 and the racing class quickly gained great popularity. The tracks were either oval or circular shaped with extremely steep banked curves. The surfaces of the tracks were composed of two-by-four inch wooden planks (laid on edge) or two-by-two inch wooden planks nailed to wooden frames. The lumber was almost always of a rough cut to allow a better grip of the tires on the motorcycles. Most tracks are credited as having been designed by a track manager and engineer named Jack Prince.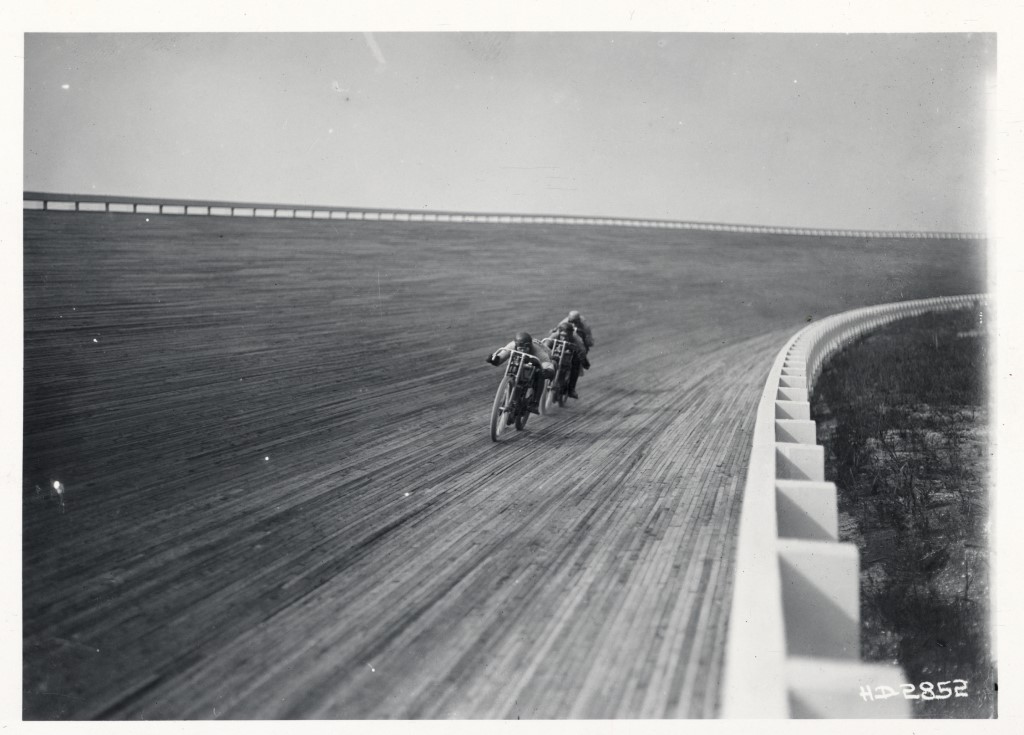 Official Harley-Davidson factory racers such as Otto Walker and Leslie "Red" Parkhurst were taking on the tracks at Sheepshead Bay, N.Y., Playa Del Ray, Calif., and points in between, including Milwaukee, Wis. They competed against racers riding the likes of Indians, Reading Standards, Thors and Merkels, to name a few. But what people remember most about the motordromes was the immense danger they posed to rider and spectator alike.
Harley-Davidson Faces Steep Obstacles
The steep banks of the tracks allowed for incredibly high speeds in excess of 120 miles per hour. Worse yet, it was also not unheard of for planks to break loose, or for large splinters to form. Woe to the rider who went down and slid into one of those splinters. And if that didn't add enough suspense, oil from the motorcycles often made the tracks slick.
An infamous race in Newark, N.J., in 1912 took the lives of four spectators and four racers. Other races saw bloodshed as well, and while the sport remained popular with crowds, it lost popularity with the media and local governments. The periodicals began to call the tracks "murderdromes," and by the early 1920s, board-track racing had been gradually outlawed by local and state governments across the nation.
Courtesy of the Harley-Davidson Archives. Explore more motorcycle history at the MoCo's museum.