Hogue Knives Introduces New Deka Knife
Hogue Knives is proud to introduce the long-awaited Deka model to their rapidly expanding line of knives. Arguably the best manual folder in Hogue's arsenal, the Deka pays tribute to a decade of engineering innovation and success. With a remarkably thin profile, natural ergonomics, featherlight weight and butter smooth action, Hogue Knives has delivered the everyday carry that one can only hold to truly appreciate the strategic design.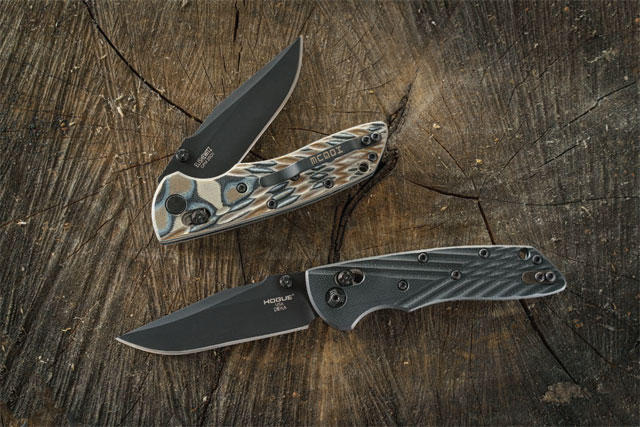 The Deka sports a .094" CPM 20CV stainless steel blade that is designed to offer the best combination of toughness, wear and corrosion resistance. The 3.25" wharncliffe or clip point blades are stone washed or finished with black Cerakote®, and hand sharpened and honed to a keen edge. The blade is controlled by the ABLE™ locking mechanism which features smooth operation, a tough lock bar and Wolff wireform springs.
The Deka's lightweight, G10 exterior is manufactured from a variety of Hogue's G-Mascus or solid black G10. The frame is finished with a low profile, tip-up ambidextrous pocket clip. The knife has a MSRP of $164.95 – $174.95. Every Hogue knife is made in the USA and is backed by three generations of manufacturing expertise. For more information, please call Hogue directly at 1-800-438-4747.