Place: Wallkill, NY 

Handle: @speakeasymotors 

URL: speakeasymotors.com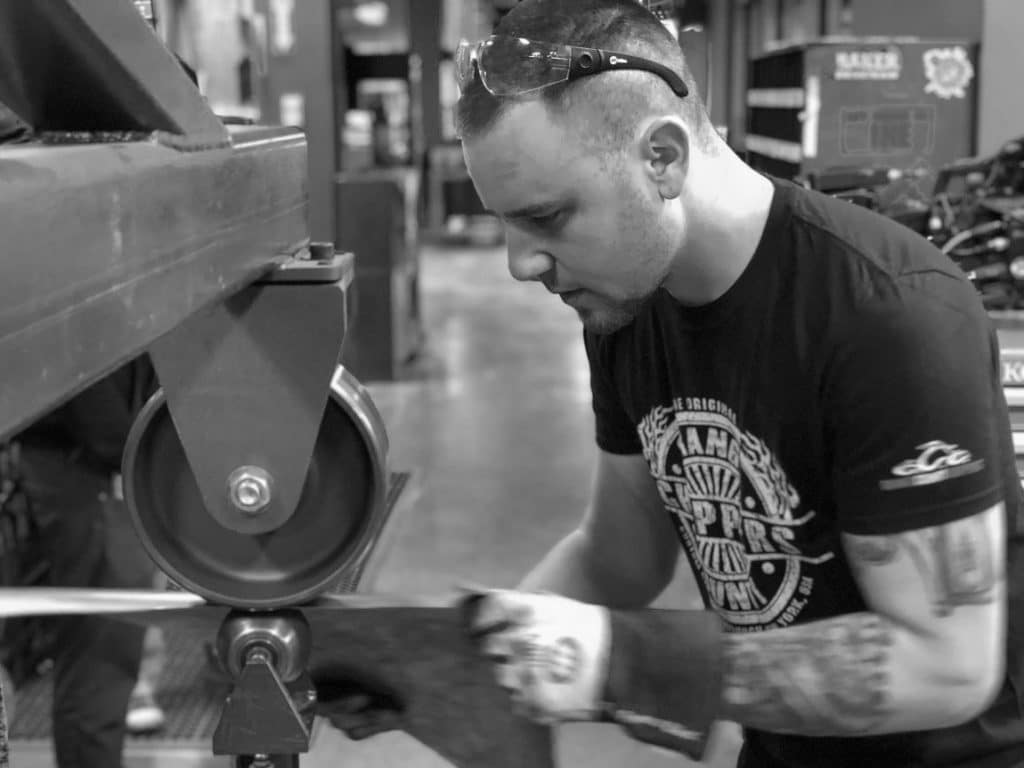 What do you do for money?
I work my ass off! I am the lead fabricator for OCC (subcontractor) and out of my shop I am currently building a bunch of custom bikes, a couple Porsche 356's, a 47 Willys, and a 1930 AV8 Model A coupe.
How did you get into motorcycles?
I grew up watching all the builders on TV and wanted to do it myself. I built a couple mini choppers as a teenager, and that landed me a job at a local motorcycle shop for  four years, which I then got sick of working for somebody else who took all the credit for my work and started Speakeasy Motors in 2011.
What was your first motorcycle?
1971 Honda CB350 I pulled out of a greenhouse and built into a little bobber.
What do you currently ride?
My daily rider is the bike I built for the 2017 Hot Bike Tour, a fully handbuilt bike, 100″ V twin, single loop frame, solid wheels, handmade cradle front end, oil in frame, hand made sheet metal, where my rear fender is my fuel tank and the backbone is totally exposed.
What is your all-time favorite motorcycle?
I'll always have a soft spot for the timeless red '63 Honda Dream 305 since that was the first motorcycle I ever rode, which my Step Dad still has.
What attracted you to motorcycles?
The art and never ending possibilities of an amazingly simple concept, two wheels with a motor in the middle, and how there's an unlimited way to connect it all.
What do you like about riding motorcycles?  
As cliche as it sounds, the sense of freedom. Can't text or talk to anybody, the total disconnect from the insane world we live in.
How have motorcycles changed your life?
Its all I do, this is my double full time job. The people and connections i've made and the stuff i've built have made me who I am today.
Who or what have you gained inspiration from?
Working with and learning from Fay Butler has been by far my main inspiration throughout my career.  I am really into the early development of transportation and design, specifically the 20's-30's era, hence the name of my shop. I also love to study the connection between automotive design and how society plays a huge role in it. Iconic things like '59 Cadillac fins sold because America loved the space age, the 50 Mercs were designed after WWII bomber planes and that made a connection with the patriotic Americans at the time. 1950s and 60's Euro cars (Porsche 356s for example) started using bullet lenses to get into the American market and connect with them like the American cars. I could go on forever about this stuff.
What has changed your life for the better?
My work ethic
What has changed your life for the worse?
My work ethic
Any other statements or slander you would like the world to know?
This shit doesn't happen overnight. Get back to work, keep your head down, hands moving, and most importantly, your mouth shut! Don't judge others just worry about making yourself better.