Smith Bros Sponsors Smash to Sturgis Ride
Coming off of our epic, 2500-mile COVID ride, we at V-Twin Visionary are doing it again with a 1200-mile Sturgis Smash from Phoenix to Sturgis! And Smith Bros Pushrods is coming with us. The Sturgis Rally kicks off the first big motorcycle event in months and we think it will prove to be huge.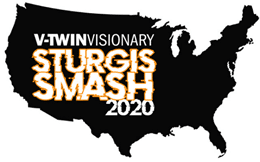 That's why we are teaming up with friends and companies like Smith Bros, hitting the road as a like-minded family of riders. We are doing it on a grand scale that will prove to be monumental.
The company makes pushrods for strip and street. From Sportsters and Evos to Twin Cams and the Milwaukee-Eight, they've got a little something for ya. They started crafting custom pushrods 1953. As a result, they build superior quality pushrods for performance cars, trucks, motorcycles, tractors, restoration, and custom projects. Their pushrods are found in many NASCAR performance engines and in your everyday driver as well.
We're outfitting a new Harley-Davidson Softail with the upgrades to make the 1200-mile journey more enjoyable. Along the way, we will be showing how our partner's goods and products work in real time. You will get the scoop on what new products are working well for us while in the saddle and on the road to Sturgis. We're proud to have Smith Bros Pushrods involved and will share more in the weeks to come.