Vance and Hines Creates Horsepower Surge at Sturgis 80th Rally
Vance and Hines is taking on the Sturgis Motorcycle Rally with a passion, and a bigger toolbox than ever before.
For starters the company offers displays in two locations. First in the City of Sturgis at J&P Cycles. The second in Rapid City at Black Hills Harley-Davidson. Both displays run out of the company's 53-foot rally trucks and feature a full selection of the company's products. Experts from the company's headquarters staff the displays. Meanwhile, technicians conduct product installations on-site for customers.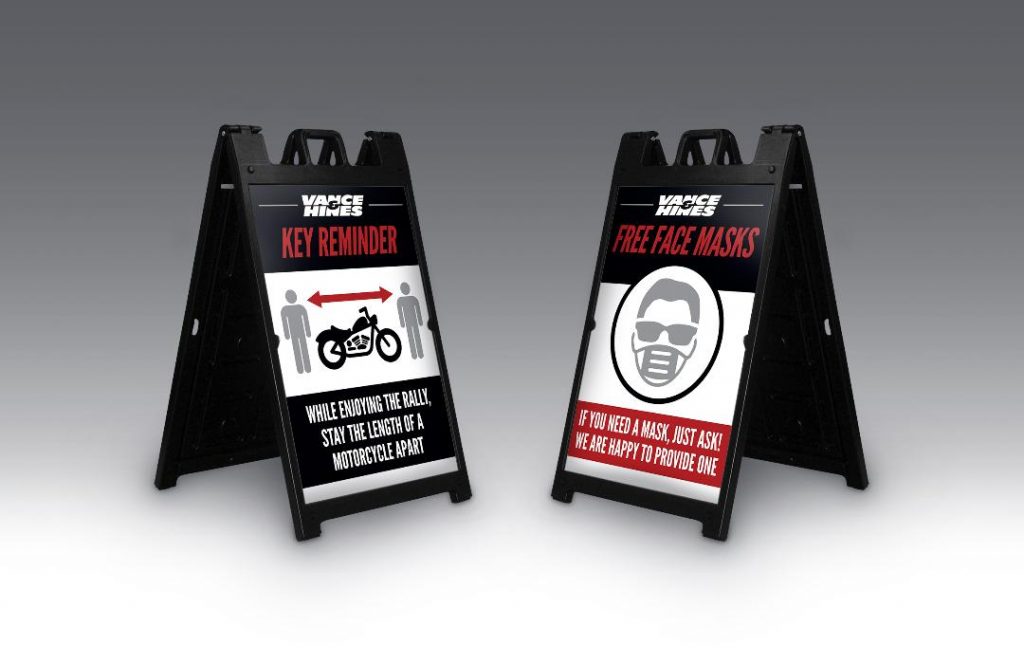 "Vance & Hines was born at a race track and grew up at rallies all across the country. Being at Sturgis feels like going home for us, so we, along with many of our customers, won't miss being there," said Mike Kennedy, president of Vance & Hines. "We've changed things a bit to protect our employees and our customers, but motorcycling will always be about freedom and the open road."
Social Distortion
Many have said that motorcycling offers the ultimate "social distancing," enjoyed by groups of friends while safely distanced at one car length per ten MPH. That familiar philosophy guides the customer experience for Vance & Hines at the rally. This year, visitors will see signage encouraging visitors to distance from others, staying "a motorcycle apart." The Vance & Hines tool box will include face masks for anyone who needs one and hand sanitizer will be as common as the rumble of big V-Twins. Vance & Hines employees will sanitize displays after each customer interaction and will regularly clean and sanitize all areas of the exhibit, both public and non-public spaces.
Both Vance & Hines locations will open on Saturday, August 1 and operate through Saturday, August 15. Displays will feature the most popular Vance & Hines products, including the Torquer 450 slip-on exhaust, designed specifically for Harley-Davidson's Milwaukee 8-powered models, as well as Twin Cam-powered bikes. Additionally, the company has added to its Air product line, introducing the all new VO2 Blade and X Air cleaner systems designed for M8 and Twin Cam-powered Harleys.
About Vance & Hines
The Vance & Hines brand has always been about enhancing the exhilaration of the motorcycle ride. It started over 40 years ago, when Terry Vance and Byron Hines were two young enthusiasts in the fledgling Southern California motorcycle drag race scene. Terry always wanted to go faster and Byron knew how to make that happen. Today, the company's mission and activity is the same; make bikes go faster on the racetrack and take those learnings to make impactful products for riders around the world. Since the Company's inception in 1979, it has run factory race programs in partnership with Suzuki, Yamaha, Ducati and Harley-Davidson in drag racing, road racing and flat track. Learn more about the company's history and products at www.vanceandhines.com.