COVID Crossing | Social Distancing, Harley Style
How did our 2500-mile COVID Crossing from Virginia to Los Angeles even come to be?
We free spirits at V-Twin Visionary had been cooped up long enough. Our nine-stop Performance Bike Show series with Harley-Davidson planned for this year was postponed until Fall. That left us home sitting on our hands, growing more bored and anxious with every day. We had a brand new crop of motorcycles and a ton of aftermarket parts to test. That's a major cornerstone of V-Twin Visionary's business; one we take very seriously. We also knew that in the time of this pandemic that social distancing was/is the right thing to do. But then we thought, why don't we do it on a customized motorcycle?
COVID Crossing: Setting the Standard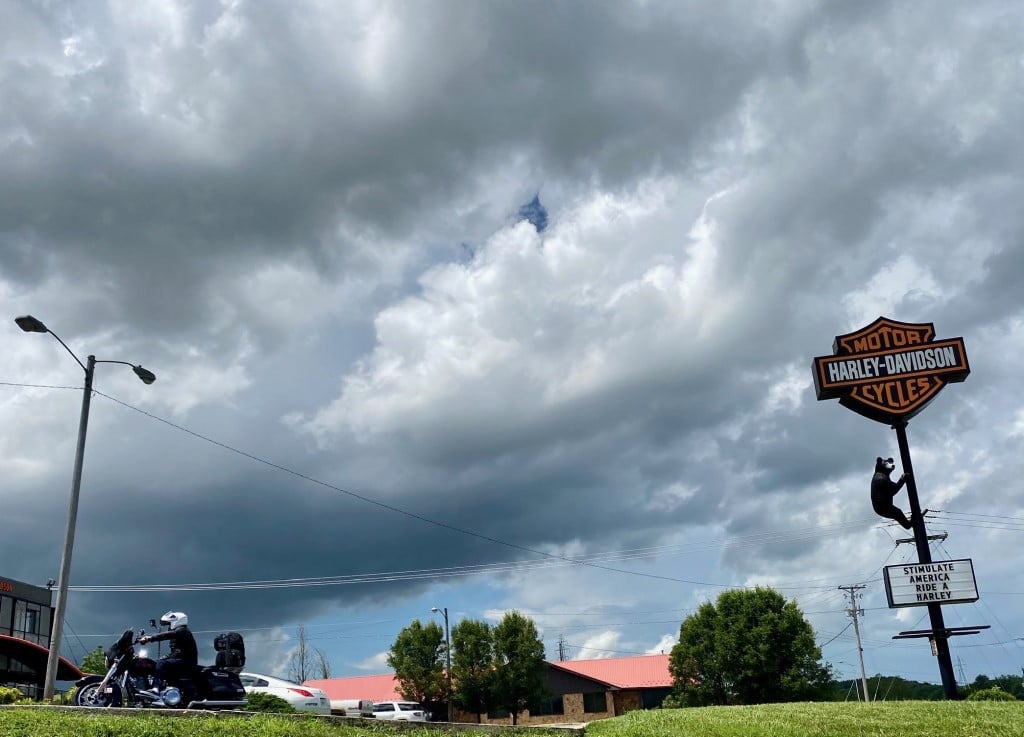 Our friends Will Cole and Matt Miles of Black Bear Harley-Davidson caught wind of the COVID Crossing. As a result, they offered up a brand new H-D Electra Glide Standard as a basis for the project. This mandated our starting point now would be Wytheville, Virginia. We'd head West back to California instead of the other way around. This "Standard" model would be a great way to test new products due to it being a bare-bones bagger.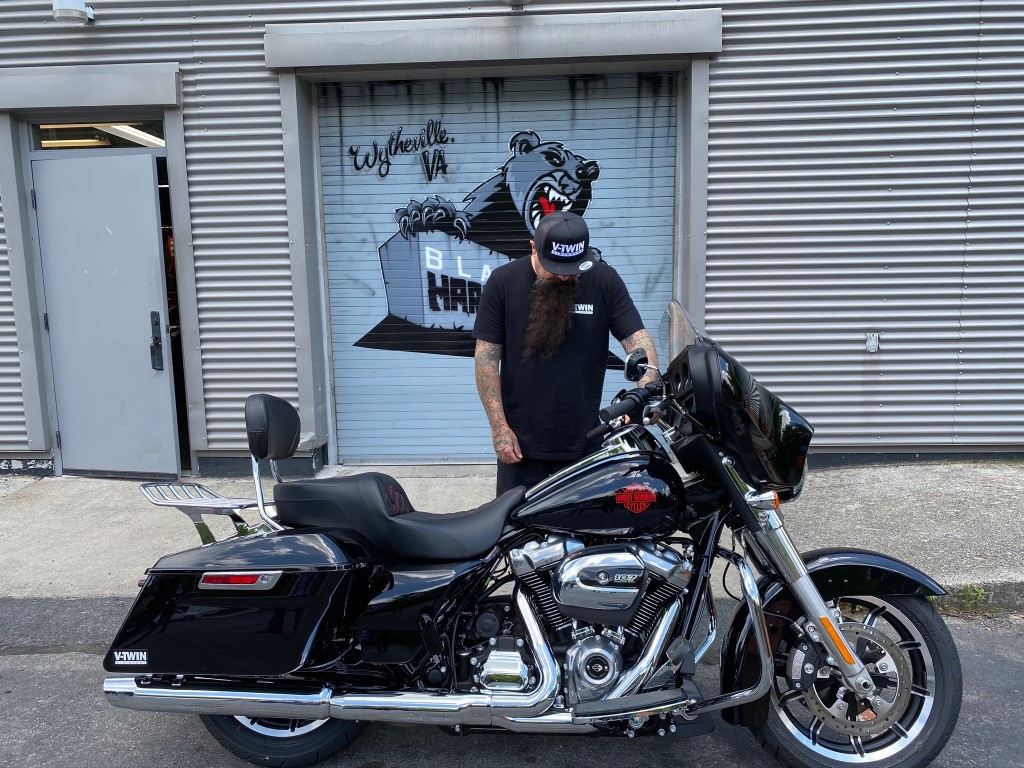 Performance parts and the newest crop of touring essentials would be installed and tested along the ride. Jeff G. Holt of V-Twin Visionary would captain the Harley with his much better half Maggie Monge riding passenger the whole way.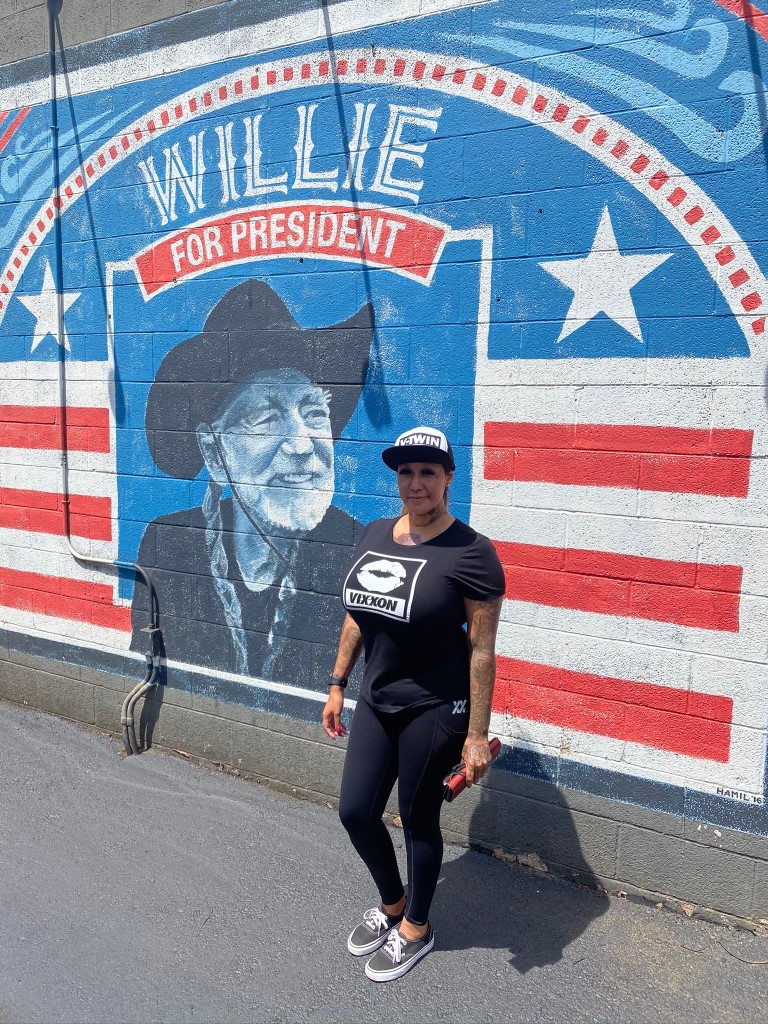 This meant having a real-deal two-up bike set up that was both powerful and comfortable. We first outfitted the bike with a comfortable seat. Then we installed a passenger backrest and rear rack from Cobra USA. Afterward we left the dealership and headed south for some more parts to be installed.
Georgia on Our Mind
Dent and Sam from Dirty Dixie Performance in Georgia were the next stop for the COVID Crossing. A mess of parts awaited us there and when we pulled up the next morning we got busy getting them on. We started with a full exhaust and intake from Cobra USA. To make these parts run their very best we added a Thundermax Milwaukee-8 ECM unit that was pre-tuned from the factory. And boy did this small metal box full of computer gear really pep things up.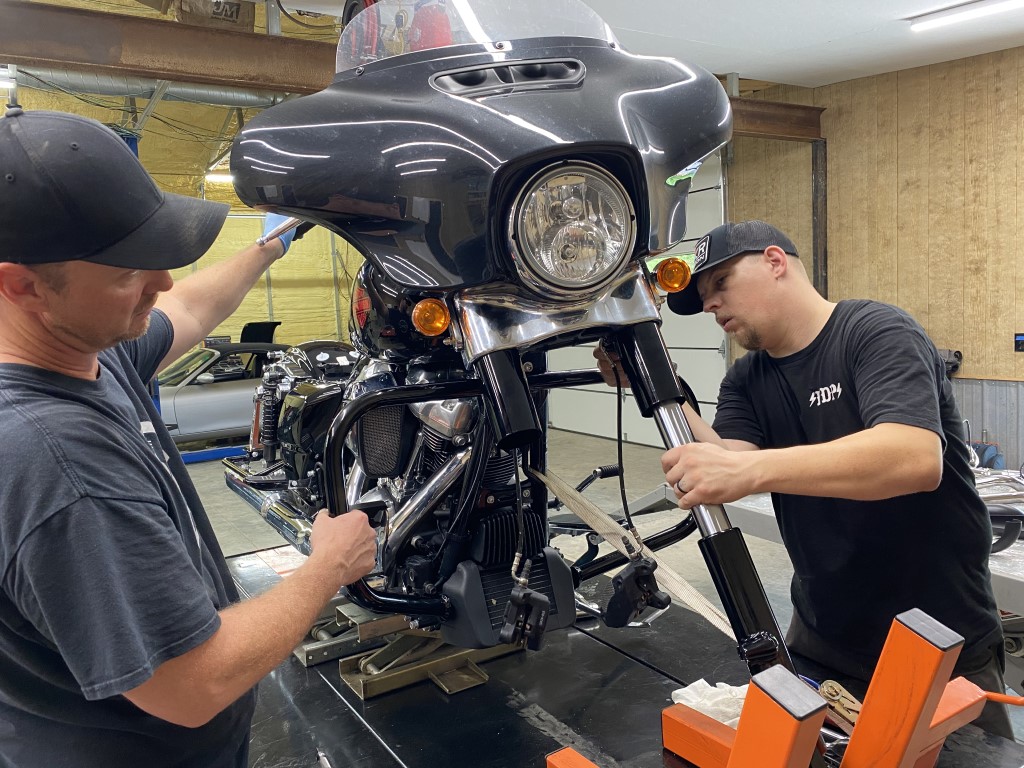 Next we upgraded the motorcycle with a set of Legend Suspension AXEO fork cartridges and Legend's REVO ARC remote reservoir rear shocks. On a long ride like the COVID Crossing suspension is key to both comfort and handling when you spend eight to 10 hours in the saddle per day.
Come into the Light
To make sure we could see and be seen in any time of day or weather condition we upgraded all of the bike's lights to LED offerings from Lectric Lighting. The stock H-D windscreen was not going to cut it. Thus we called our friends at National Cycle and they sent out a few windshields for us to choose from. Arlen Ness Motorcycles sent out a gang of parts to upgrade our contact points with the bike such as grips and floorboards; even a set of their new mirrors. The bike also got some TLC in the form of a full fluid change from Maxima USA and some paint care from ColorRite paint and Spyt Shyne detailer.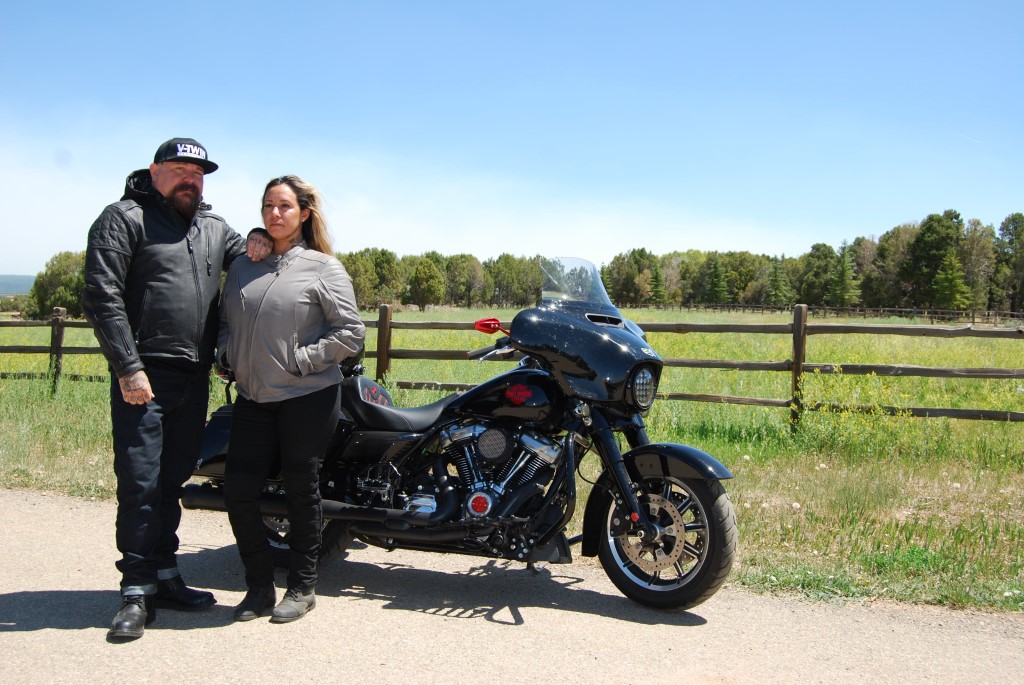 Jeff and Maggie were also outfitted with Roland Sands Design riding gear. Denim pants packed with Kevlar, multi-layer leather jackets, and smartly designed riding boots. Bell Helmets kicked down a set of its SRT modular helmets with Panovision Pro Tint auto darkening shields for the couple. Lexin was the communication system of choice; both Jeff and Maggie communicated with each other, their family, and most importantly listened to whatever kind music they wanted to.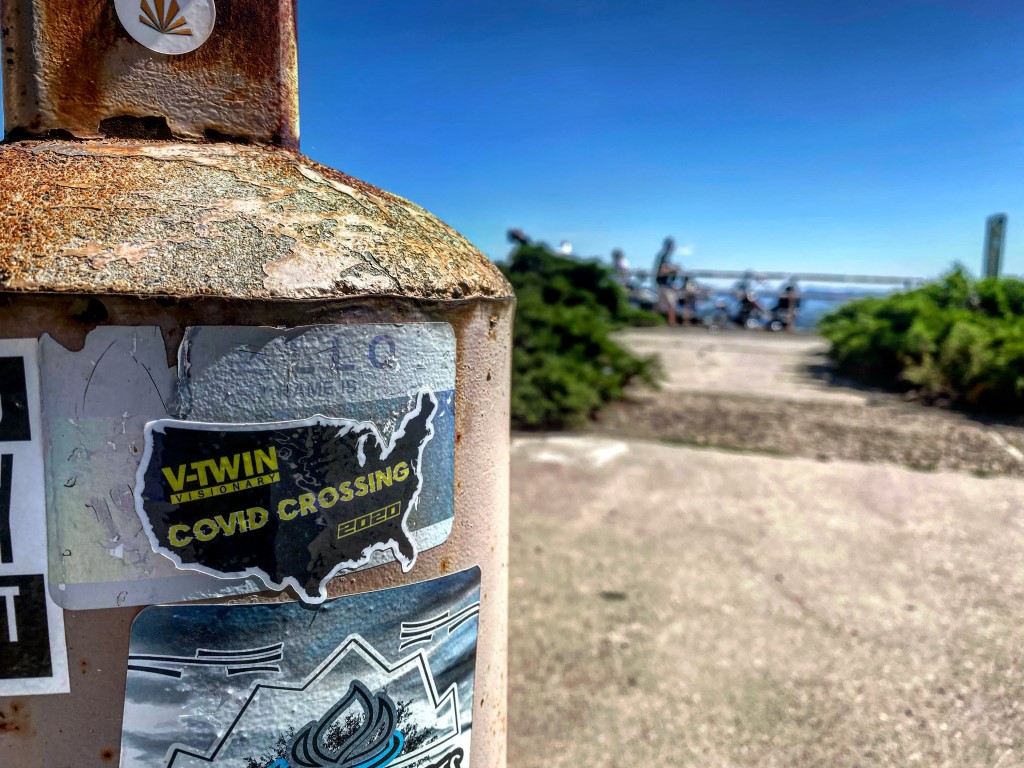 Moto Meet & Greet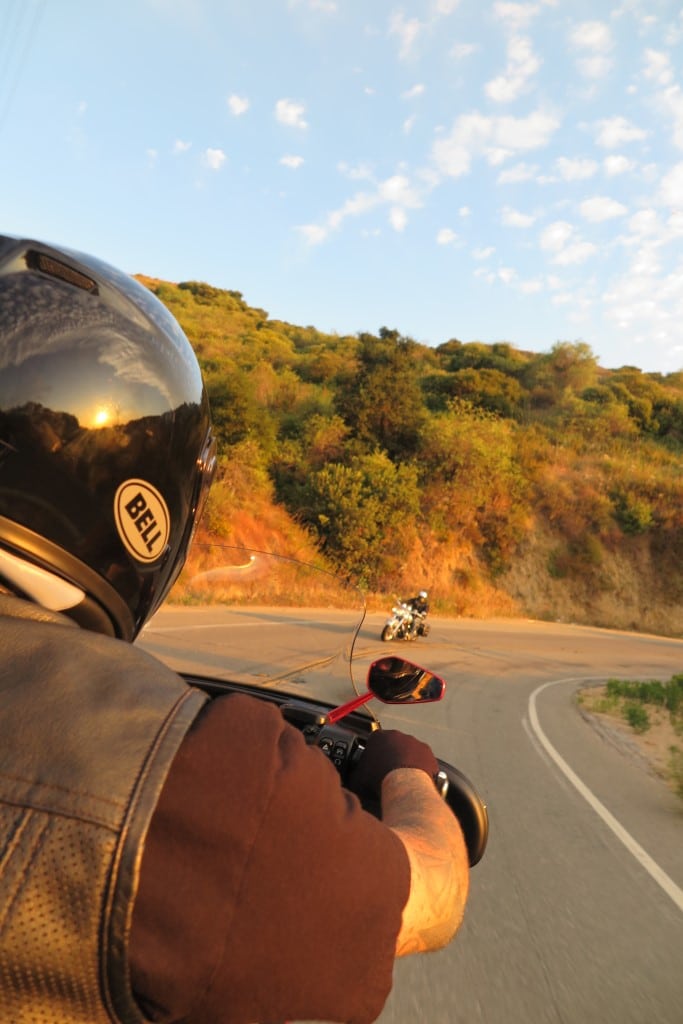 Once on the highway with a road-worthy machine, we hit all sorts of places and met up (at a 6-foot distance of course) with other like-minded folks from all over the USA. Some even joined in on the ride. Our friend Big Kev was a grounded tour bus driver for some of the biggest bands on the world. We ran into him in Tennessee and he went straight home and packed to meet us the next morning. Another person we picked up along the way in Nashville was Natalie Kleiner, a clothing designer recently laid off due to the `rona. Her beloved H-D FXR was not running well, so we loaned her our 2020 H-D Lowrider S for the ride. When we hit Oklahoma our buddy Kent Prentiss of RadFlagz joined up. Kent rode with us to Colorado and Arizona then he rode back home after we headed West.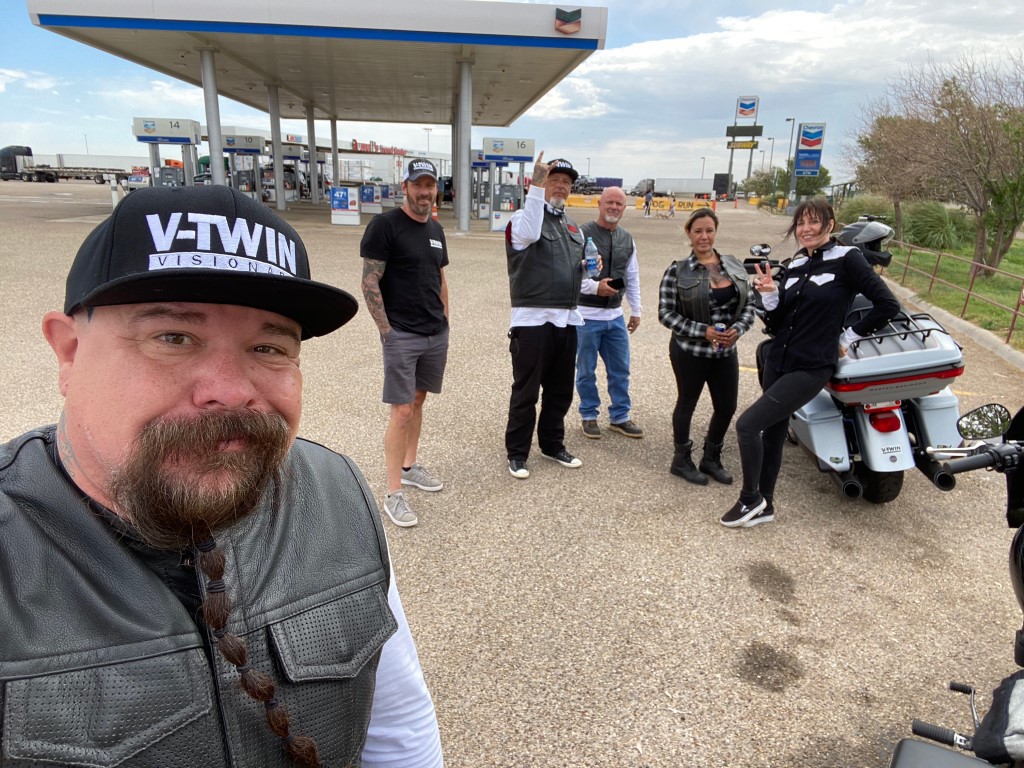 After all was said and done with 2970 miles racked up, we can attest to the fact that even during the COVID Crisis there is no better way to see the USA than on a modified motorcycle with the person you love, surrounded by good friends old and new.
If you would like to see how well all these products worked for us feel free to check out www.vtwinvisionary.com